Media Clippings
Page 3 of 3


Tejano and Grupero News
Corpus Christy, Texas
February 6, 2009
The story below ran in Tejano and Grupero News, a Corpus Christy, Texas newspaper, on www.ramiroburr.com, and in the San Antonio Express News.

Friday, 06 February 2009 01:13

Mark Guerrero Enshrined in the Grammy Museum
Mark Guerrero may not be a household name but he follows a legacy established by his late father, Lalo Guerrero. In this report, our correspondent Ramon Hernandez outlines Guerrero's musical contributions.
The Grammy Museum in Los Angeles was officially opened on December 6th and among those honored with an exhibit is Mark Guerrero.
Not only is this an honor, but a great accomplishment for the singer-songwriter-musician, who is the youngest son of the legendary Lalo Guerrero, the acknowledged "Father of Chicano Music."
The display features the 59-year-old's controversial 45 rpm single "I'm Brown," a photo of his band at that time, and the original manuscript of his lyric in "Songs of Conscience, Songs of Freedom," the first major museum exhibit to explore the full 200-year history of music and politics in America. Guerrero's artifacts can be seen on the second floor of the four-floor facility where his peers are Woody Guthrie, Bob Dylan, Jackson Browne plus many other musical innovators.
"I wrote 'I'm Brown' when I was 21 and in 1972, I recorded it as a solo artist," Guerrero said during an interview at his home in Cathedral City, California.
"It was sort of a protest song, but the chorus says, 'Don't you know I'm brown, Can't you see my face, but I'm first a member of the human race.' I'm proud of that song because it expresses Chicano pride, but also says, 'hey, I'm first a human being.' I also love the music and the magical atmosphere of the recording.
"It came out on Capitol Records, but they didn't promote it for probably a lot of reasons. One reason is that it was almost five minutes long at a time when records were normally three minutes. But who knows, there might have been some other things behind the scenes, like, 'Oh, it's kind of radical and who's going to buy that. So they may have just buried it.
"The next year, when I had a sort of country-rock group call Tango, I was signed to A&M Records, 'I'm Brown' was included on our album as well, so it came out twice. However, we didn't get to tour, so the album sort of died on the vine. Nobody knows about that record because it kind of got buried in these two situations," the 59-year-old composer revealed.
In spite of the lack of exposure, airplay or touring to promote the record, the single which was practically shelved did not go unnoticed since it was selected by the Grammy Museum as an important part of musical history.
For Texans not familiar with Guerrero, he grew up in East Los Angeles. At 13, he formed Mark & the Escorts, who often shared the bill with hit bands such as Cannibal and the Headhunters, The Premiers, and Thee Midniters. Mark & the Escorts were also included on the 1965 album "West Coast Eastside Revue," which featured all the top East L.A. bands of the era.
He was a student at Garfield High School when at 15, he recorded his first two singles, "Dance With Me" and "Get Your Baby." Many of the popular musicians who were part of the East L.A. music scene at the time went to Garfield, including The Blendells and a couple of future members of Los Lobos. This is also the high school that a decade later had on its faculty the phenomenal math teacher, Jaimé Escalane on whom the movie "Stand and Deliver" was based.
Next he led "The Men from S.O.U.N.D." and at 21, he wrote and recorded the Chicano equivalent of James Brown's "I'm Black and I'm Proud" and Helen Reddy's "I Am Woman," and which became his most famous opus.
Guerrero is a musician because he plays guitar, bass and keyboards, but along the way, he also became a radio personality as the host of "Chicano Music Chronicles," on crnlive.com based out of Phoenix, Arizona.
"The idea of the show is that I would pick about a dozen of my favorite songs by the guest artist and we'd talk about them, each song and about their career," Guerrero explained. "Some of my guests were Trini Lopez, Chan Romero, Tierra, and El Chicano." "Each show ranged from about an hour to two hours and you can still hear them on my website."
That brings us to the living legend's latest feather in his cap, that of being webmaster of his own website. At www.markguerrero.net, he chronicles the history of Chicano music. And without realizing it, he also became a musicologist and writer since his site features in-depth interviews with a 'who's who in Chicano music. It is also here that La Prensa's readers can receive a detailed crash course on Guerrero's illustrious musical career.
Fast forwarding all the way to the present, the singer-songwriter-musician is also featured in "Chicano Rock: The Sounds of East Los Angeles," a PBS documentary that aired on December 14, 2008 and will continue to be intermittently aired throughout the remainder of this year. Check www.pbs.org or your local TV Guide for future airings.
"It's a great one-hour documentary that tells the story of particularly the Chicano rock & rollers out of East L.A. and I'm in a couple of interview spots and a performance spot.
"The graphics, the way it's put together, the way the story is told – it touches on the discrimination that we've gone through and it talks about the Chicano Movement and the radicalization of the music, the riots in East L.A., the Viet Nam War, etc.," Guerrero raved. "It touches on not just the music, but the sociology and the history around it. It's really inspiring.
"I also want to tell you about the Trini López television special that we just taped on November 11 at the Orpheum Theater in downtown Los Angeles. It was a seven high-definition camera shoot for PBS and it is called 'Trini López Presents Latin Music Legends.' Tierra backed me up on my dad's 'Los Chucos Suaves,' then Trini came out and did a few songs with a big band."
As we were talking, his cell phone rang and it was Trini López, who almost lives next-door to Guerrero in Palm Springs. Excusing his self, without losing his excited state and without skipping a beat he continued, adding the other performers on the special; Little Willie G. & Thee Midniters, El Chicano, Tierra, and the Gregg Rolie Band. Also, Los Lobos, Julio Iglesias, and José José provided videos which will be inserted into the show.
While Guerrero's noteworthy achievements have brought him national recognition and high prestige, he still has to make a living. So as he says, "I perform five nights a week at Las Casuelas Terraza, an outdoor nightclub in Palm Springs. (Not to be mistaken with Las Casuelas Nuevas in Rancho Mirage where his father performed for many years.)
"This is my 'meat and potatoes,' 'pay the bills' gig and we (Hot Rox) are a great cover band. So I don't do any original material because it's really a 'top 40' kind of gig.
As for the future, Guerrero said, "Chan Romero and I are planning to go Liverpool (England) this summer and perform together.
"On February 21st, I'm doing a re-union concert with Mark and the Escorts. We haven't played together since 1966. I got five of the original members and we're going to perform in Van Nuys at a garage rock 'n' roll blow out kind of concert. There's going to be 13 bands and out of the thirteen, there are two Chicano sixties bands from East L.A., that's us and Thee Ambertones. I'm pretty excited about the show and am going to video tape our performance and put it up on 'you tube.'
This is a 'don't miss' event and as long as you're in Los Angeles, go check out his exhibit in the Grammy Museum. For its hours and exact location, go to www.grammymuseum.org.
If this article has sparked your interest in Guerrero's repertoire, his recordings are available at www.markguerrero.net. In addition, you may view seventy videos of the Grammy Museum honoree in action at www.youtube.com/markguerrero49, about twenty of those are with his father Lalo.
Fans can also meet Mark when he comes to San Antonio for the "American Sabor" exhibit that will run at Museo Alameda from June 17 to September 20.
---
Pop Matters.com
Verse-Chorus-Verse
Monday, February 8, 2010
An Interview with Mark Guerrero
Monday, Feb 8, 2010
by PC Muñoz
Artist/producer PC Muñoz mines for gems and grills the greats.
In 2008, the Grammy Museum featured singer-songwriter Mark Guerrero's 1972 watershed Capitol Records single, "I'm Brown", in an exhibit called Songs of Conscience, Sounds of Freedom. A Chicano-pride song with a humanist heart, the song acknowledges pride in one's background/ethnicity while also recognizing, to quote the lyric, "I'm first a member of the human race." The nod from the Grammy Museum regarding this philosophically inclusive song is a fitting crowning achievement for Guerrero, a unique artist who has largely gone unnoticed by the masses, though he has been making music, both on major labels and DIY style, for five decades.
The son of the late, legendary Chicano songwriter Lalo Guerrero, Mark Guerrero began his career at age 13 with Mark & the Escorts, an East LA band who shared bills with "Eastside Sound" legends like Cannibal & the Headhunters and Thee Midniters. After a stint leading a group called The Men From S.O.U.N.D., Guerrero went on to record two singles for Capitol (the aforementioned "I'm Brown", and "Rock & Roll Queen") Later, he signed with A&M Records and released one album in 1973 with his group Tango (check out the dramatic back-story about Tango, written by Guerrero himself, here). Later, Herb Alpert , the "A" in A&M, Records, would go on to record Guerrero's song "Pre-Columbian Dream" on his 1983 album, Noche de Amor. Guerrero has remained active and prolific over the past three decades as well, releasing several albums, lecturing and consulting on various Latino-focused exhibits, shows, and concerts, and performing regularly with various groups, including his own.

Listening for the first time to Mark Guerrero's earlier songs, especially the stuff from the '70s, is like tapping into a parallel reality; a reality where this East-LA bred Chicano artist found ready acceptance in the music industry and topped the charts with his confident, effortless songcraft and vocals. Mix some Mark Guerrero songs up in your digital player's shuffle and I guarantee you'll end up running to check the artist name when one of his songs pops up and something about it seems strangely familiar, yet altogether new at the same time. It's a blast from the past you never heard.
My personal favorites of Guerrero's early work is the B-side to "I'm Brown", "Livin' Off the Land", a feel-good rocker that sounds just like the AM radio classic it should have been, and "Hang On", a poppy, keyboard-driven tune that was left off of the Tango album. Both songs are available on the compilation CD Mark Guerrero Solo and with Tango 1972-1974, which is a great way to get acquainted with Guerrero's work (it's available on Guerrero's website). From there, interested folks can easily jump back to his rarer earlier recordings and forward to his more recent work.
What was the first song you fell in love with, and what is your current relationship to the piece?
"I Want You I Need You I Love You" by Elvis Presley. When I was about five years old, I had access to my teenage brother's record collection. I remember hearing this one over and over again on my little children's 45 rpm record player with Alice and Wonderland characters emblazoned on it. The 6/8 romantic doo-wop ballad is a great sounding record, with fantastic background vocals (a trio with a pre-Jordanaires Gordon Stoker), great band (Elvis regulars Scotty Moore on guitar, DJ Fontana on drums, and Bill Black on bass, along with Marvin Hughes on piano and Chet Atkins on guitar), and Elvis at his best on lead vocal, run through a cavernous echo chamber. The sound and emotion of the music coming off the grooves was nothing short of magical. I did play the song in a band in recent years. It was fun playing it and it brought back the memory of hearing it as a child. Whenever I hear the record now, it still has the magic.
Who is your favorite "unsung" artist or songwriter, someone who you feel never gets their due? Talk a little bit about him/her.
Hirth Martinez, a singer/songwriter who happens to be a friend of mine. He recorded two albums for Warner Brothers in the mid-'70s. Hirth got his record deal as a result of Bob Dylan hearing his songs and hooking him up with Robbie Robertson of the Band. Robbie took him to Warner Brothers (Records) and produced his first album Hirth from Earth,using the best musicians L.A. had to offer. Hirth's a phenomenal songwriter and guitarist. His lyrics are unique, poetic, and often have humor in them. His songs are in different genres, ranging from sambas to jazz, blues, and rock, and the melodies and chord structures can be very sophisticated, yet totally accessible. In the late '90s, he recorded a great album for release in Japan called I'm Not Like I Was Before, which is more on the jazzy side, but also still accessible to the pop listener. I would also put (the author of this column) PC Muñoz on the list and with all due modesty, yours truly.
Is there an artist, genre, author, filmmaker, etc. who/which has had a significant impact/influence on you, but that influence can't be directly heard in your music?
The late great author Kurt Vonnegut. His books and short stories are very imaginative and funny, but at their core very profound and moralistic. Because of this, he's been compared to Mark Twain, even considered by many to be the Mark Twain of the 20th century. Songs can also get some profound messages across using humor and other devices that candy-coat them, making the good medicine go down easy.
Do you view songwriting as a calling, a gig, a hobby, other…?
It's a calling. It's also in my DNA since my dad, Lalo Guerrero (considered the "Father of Chicano Music"), was a great and prolific songwriter. I've been writing songs since I was 16 years old and continue to do so. I'm a singer and musician, but I've always considered myself fundamentally a songwriter.
Name one contemporary song that encourages you about the future of songwriting/pop music.
I don't think I can name one song that stands out that dramatically by itself. There are some contemporary artists that have talent as singer/songwriters such as Norah Jones, Jason Mraz, John Mayer, and Alicia Keys, but I don't see talents now that are in the same class as the greats of the '60s and '70s; Bob Dylan, John Lennon, Paul McCartney, Brian Wilson, Ray Charles, Stevie Wonder, Jimi Hendrix, James Brown, Joni Mitchell, Paul Simon, James Taylor, Elton John, Sting, Carole King, Steely Dan, Marvin Gaye, Smokey Robinson, etc. I don't see that kind of genius and innovation today, but there's always hope for the future.
In addition to his work as a songwriter and musician, Mark Guerrero maintains an extensive collection of information, memorabilia, and writings on Chicano music and musicians on his website (including lots of information about his father), featuring photos, links, reviews, and interviews. Check out Mark's music and much more at markguerrero.com

---
The Desert Sun
Palm Springs, CA
March 3, 2010


---
Palm Springs Guide
Palm Springs, CA
June 11, 2010
(Mark Guerrero sitting in with El Chicano)
With Special Guests: El Chicano and Tierra

Saturday, June 11, 2010
Spotlight 29 Casino
Indio, California

Story and Photos by Allen Lawrence

For more Allen Lawrence photos of WAR and the Latin Legends, click here.

Friday night, June 11,War, Zoot Suits and brass reigned at Spotlight 29 Casino in Indio, California. It was another one of those rare nights were everything came together to create a perfect evening, at least for Coachella Valley music fans. Three legendary groups took the stage and the music was terrific.
El Chicano opened the evening, and they opened it with a bang. Within minutes, they brought the audience to a fevered pitch and kept them there through their entire set. Audience members came to their feet and were dancing in the isles, cheering, shouting and singing to the music. The crowd loved El Chicano, and El Chicano immediately responded showing that they loved the crowd back. They gave their performance everything they had, and the people loved them even more. Special guest singer Mark Guerrero, son of the late, great Lalo Guerrero, "The Father of Chicano Music," came out and sang "Brown Eyed Girl" with El Chicano and the audience went crazy. The group dedicated their music to keyboard player Bobby Espinosa, one of founding members of El Chicano who unfortunately died recently.

Sitting next to me during the performance were two friends from Indio, Cathy Garcia and Rita Soriano. Cathy told me that El Chicano was one of her favorite groups and that she loved their music. After the set was over, she confided that she especially loved their rendition of "Sabor A Mi." Rita told me that her favorite from the set was, "Tell Her She's Lovely." I agreed with both of them.

Also in the audience were War fans Rick and Sylvia Sambrano and Carmen and Filipe Beccerra and dancing in the isles, were our old Laker Fan buddies, Bonggo and Jacqueline Beane.

Next up was Tierra, and they took the stage like a line of musical assassins. They lined up across the stage and,like a firing squad, blasted out at the crowd already revved up and made ready to go by El Chicano. The crowd responded and once again took to their feet, dancing, singing, shouted and reveling in the isles. Tierra belted out a list of their greatest hits including, "Lady in the Moonlight," "Memories," "Together," "Gonna Find Her" and "Zoot Suit Boogie." The music and the energy they created were altogether shameless, brazen and marvelous. Their Zoot Suited drummer pranced across the stage and the crowd went wild. He loved the reaction and bowed and recognized the adoration of the crowd, and the music deepened and the crowd loosened up a bit more, and the world was about music.

By the time War was declared and took the stage, the audience was ready to rumble and rumble they did when War opened with their blockbuster hit "Cisco Kid." What had been an audience became a mob, and there was standing room only as a battalion of singing, dancing and merry makers moved forward, crowed the stage, danced, sang and simply had a great time. War showed they still had it as they played their "War Hit List!" No one was in the least bit unhappy that War had been unleashed upon the Coachella Valley.

All in all, it was an amazing night. Groups come and go. Great groups have played at Spotlight 29 before, but tonight there was music nirvana as three great groups declared music on the residents and visitors to the Coachella Valley. There were no survivors, there were only revelers and the joyful as War, El Chicano and Tierra were never better.

Thank you, Spotlight29! Just when it gets quiet in the Coachella Valley, you know how to loose the Dogs of War and bring our spirits up. I, for one, am looking forward to next month at 8 p.m., Friday, July 2, when Old School #5 takes to the stage and the music returns.

For more Allen Lawrence photos of WAR and the Latin Legends, click here.
---

The Desert Entertainer
Palm Springs, CA
September 9, 2010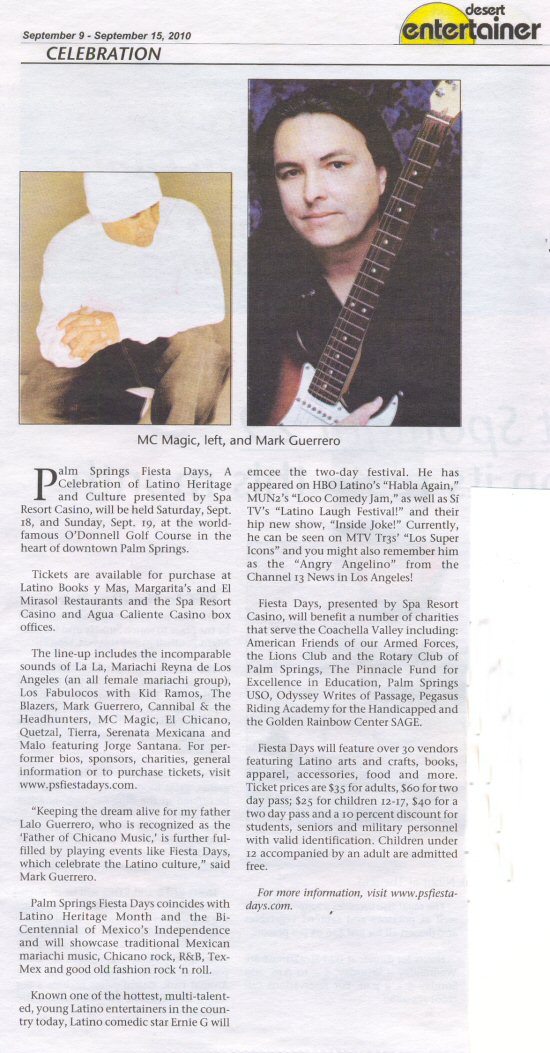 ---
The Desert Sun
Palm Springs, CA
September 14, 2010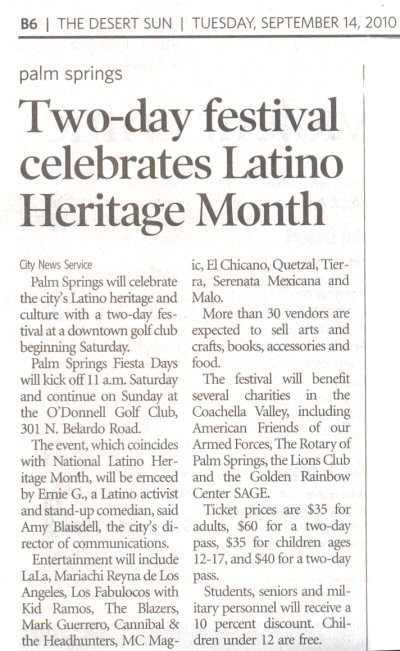 ---
The Desert Sun
Palm Springs, CA
September 14, 2010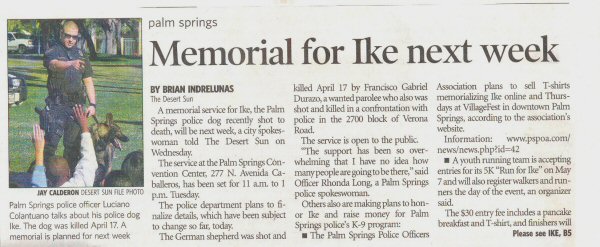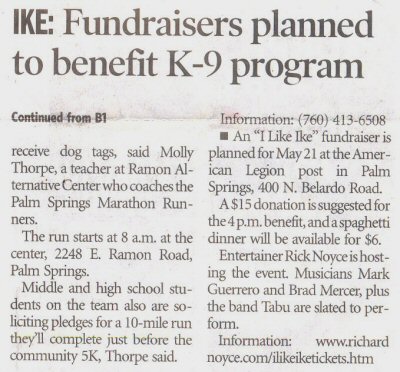 ---
The Desert Entertainer
Palm Springs, CA
April 7- April 13, 2011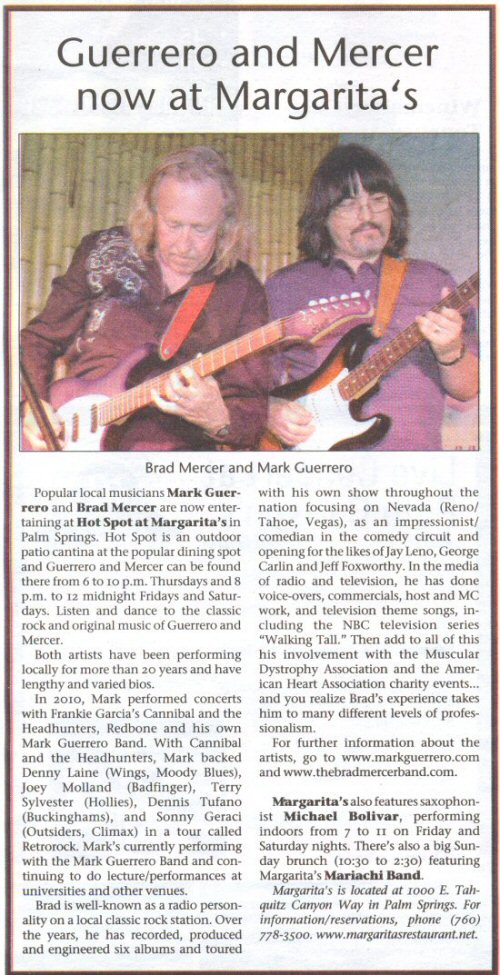 ---
Palm Springs Life
Desert Guide
Palm Springs, CA
November 2011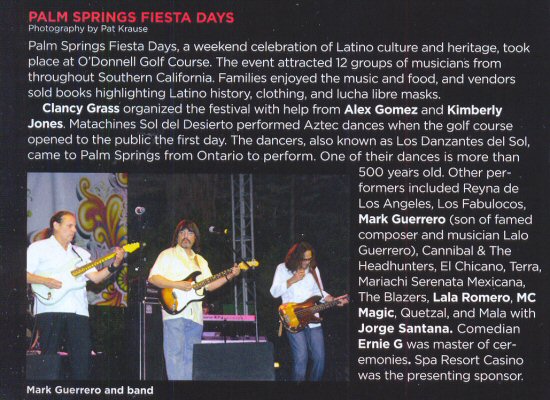 ---
Mark Guerrero (2013- 16)

'American Sabor' brings Latin 'flavor' to Cal State L.A.
Smithsonian exhibit presents musical contributions of U.S. Latinos from 1940s to the present
From cha-cha-chá to rumba, these distinctive musical styles have influenced American popular music for decades. Bringing with them a diverse array of rhythms and regional styles, Latino artists have contributed extensively to U.S. musical history.
Los Angeles is a hub for Latino culture and music, so it's fitting for the Smithsonian to bring "American Sabor: Latinos in U.S. Popular Music," to California State University, Los Angeles.
The traveling exhibition celebrates the true flavor, or "sabor," of Latin music in the United States from the 1940s to the present. And it focuses on Los Angeles as one of the five major centers of Latino popular music production, representing the remarkable diversity of this music.
"As a result of the infusion of immigrants in Los Angeles from Mexico and Central America, the dynamic music scenes in this great city have helped shape American popular music, such as rock and roll, jazz, punk and hip-hop," explained CSULA Professor John Kennedy, one of CSULA's committee members organizing the exhibit on campus.
As the world's entertainment capitol, Los Angeles is home to many Latino artists. Cal State L.A. is particularly proud of those artists who began their careers here, and in the surrounding communities.
Sonia Marie De León de Vega.
For example, noted symphony and opera conductor Sonia Marie De León de Vega honed her talent and began conducting at CSULA, while pursuing her academic degrees in music.
"Cal State L.A. was a very important aspect of my life. I started out as a music major with a focus on piano performance, but after taking a class with Professor David Buck, I was inspired to train as a musical conductor," said De León de Vega, who grew up listening to pop music in Echo Park but fell in love with classical music when she first heard Beethoven's symphony as a little girl. "The CSULA conducting professor was wonderful in helping to develop the skills needed for me to pursue a professional career in music. I am still in touch with him and will always consider him my mentor."
De León de Vega was instrumental in forming the Santa Cecilia Orchestra in Los Angeles in 1992 in an effort to bring classical music to the Latino community. She has achieved distinction as a creative and consummate musician and as a leading influence in the growing Latino culture in the United States. Her musical talents have inspired a large following in Southern California through live orchestral presentations, as well as an international audience through televised performances in the United States, Latin America and Europe. De León de Vega has also been a guest conductor for many orchestras and opera companies and has developed concerts and children's music workshops for the Cultural Affairs Department of the City of Los Angeles.
De León de Vega, who was the first woman in history to receive a Vatican invitation to conduct a symphony orchestra at a Papal Mass, is recognized as part of the "American Sabor" exhibit for her accomplishments and career in conducting.
"It's great to be part of such an exhibit. One that is important to our city and its huge population of Latin Americans," she said. "This will be a remarkable way to offer the public a deeper cultural understanding of the history of Latino art and music."
Mark Guerrero.
Another CSULA alum featured in "American Sabor" is singer, songwriter and musician Mark Guerrero, who earned a bachelor's degree in Chicano studies.
"It is amazing how things work in life," said Guerrero, who has music in his blood. He started playing in a band at 13 and was heavily influenced by his father, the late legendary singer/songwriter Lalo Guerrero.
"I was fascinated to delve into my cultural and family history as a Chicano studies major at CSULA," he said. "So, the more I learned about my Mexican and Chicano heritage, the more it got infused in my music. In order to chronicle and preserve the rich history of East L.A. and Chicano rock, I developed a website, markguerrero.com, which is now referenced by colleges and universities around the world."
Guerrero, who led the popular East L.A. band Mark & the Escorts, recorded two singles for GNP Crescendo Records: "Get Your Baby" and "Dance With Me." He also recorded as a solo artist for Ode Records (produced by the legendary Lou Adler), Capitol Records, and with his group, Tango, for A&M Records. He has performed on stage with a variety of renowned performers, such as Redbone, Eric Burdon, El Chicano, Tierra, Lalo Guerrero, and many others. Guerrero also has written more than a hundred articles, hosted an internet radio show called "Chicano Music Chronicles," been a guest on numerous radio and television programs, consulted for museums, and lectured at universities.
For his distinguished musical career and expertise in Chicano and East L.A. music history, Guerrero was invited from the onset to be part of the advisory board for the original Experience Music Project (EMP) exhibit on "American Sabor," helping to provide artifacts and to conduct oral interviews.
"It is notable of the Smithsonian to take this EMP exhibit further, so others can explore and appreciate the Latin musical culture and genre of the U.S.," said Guerrero. "I am deeply honored to be included among other illustrious Latino musicians, and to be able to share my life's experience and contributions in American music history through the exhibit."
Edward Resto.
The exhibit also plays tribute to legendary Latin jazz bassist Edward Resto, who completed his bachelor's degree in jazz studies and performance, and master's degree in Afro-Latin music at CSULA.
"Here, I found that I had so much to learn," said Resto. "I had been a professional, accomplished musician for most of my life, yet I always knew that the life of a true artist is a never-ending process of growth, knowledge and creative development. I was able to embrace this educational environment and re-ignite the passion that lives inside of me as an artist and as an academic."
Resto, who enjoyed a celebrated career with the Grammy award-winning Eddie Palmieri Orchestra, is recognized as a first class bassist for his extensive experience in a broad range of musical styles. He had his start at 15 in New York, playing bass at a wedding celebration. From there, he began performing, touring, teaching, and recording around the world. This helped him to develop rapidly as a versatile bassist and was immediately sought after to perform by major performers and music groups, such as Rene Touzet, Tito Puente, Chick Corea, Kenny Burrell, Rita Moreno, Francisco Aguabella, Poncho Sanchez, Paul Simon, Don Tosti, Shakira, Celia Cruz, Freddie Fender and Flaco Jimenez, Jennifer Lopez, The Red Hot Chili Peppers, Lalo Guerrero and many others.
Resto is acknowledged in the exhibit at CSULA for his bassist career, which captured the New York City Afro-Latin music scene of the 1970s and 1980s, and is still making a major impact to the music of today.
"This exhibition provides a huge Latino melting pot of music that can be explored, researched, appreciated and enjoyed. Thanks to the Smithsonian, lovers of this wonderful Latino culture and music can find a place to flourish and grow in their quest for exploration of this rich music," said Resto. "I am proud and excited that the Smithsonian's 'American Sabor' exhibit included my grandfathers and my own personal Afro Latino genre, demographic and musical contributions, but also integrated the numerous Latino musical cultures scattered across the United States."
---
"American Sabor: Latinos in U.S. Popular Music" exhibition will be on display in the Fine Arts Gallery at CSULA from Nov. 16 through Feb. 9, 2014. "American Sabor" is a 2,500-square-foot learning experience with engaging bilingual (English and Spanish) text panels, striking graphics and photographs, a dance floor and compelling listening stations and films. The exhibit's open house will take place on Saturday, Nov. 16, 10 a.m.-5:30 p.m.
Developed by EMP Museum and the University of Washington, and organized for travel by the Smithsonian Institution Traveling Exhibition Services (SITES), the exhibition, its national tour and related programs are made possible by Ford Motor Company Fund.
---
Find out more at these links:
---
Desert Entertainer
October 31- November 6, 2013
Palm Springs, CA



Text of above article
by Claudia McVeigh
Mark Guerrero is an interesting man. Not just an accomplished musician, singer and songwriter, he is also an expert on Chicano music and culture, having earned a B.A. in Chicano Studies. Born and raised in East L.A., Mark came to the Coachella Valley in the 1980s, and has been playing music at local venues ever since. Currently he's performing for patrons at three different restaurants in the valley- Margarita's in Palm Springs, and in La Quinta, Arnold Palmer's and Lavedner Bistro.
Mark comes by his musical talent honestly. His father was famed musician and Coachella Valley icon, Lalo Guerrero, known as the Father of Chicano Music. Mark started playing music at a young age- by the age of 14 he was recording singles with his popular East L.A. band, Mark & the Escorts. He recorded for major labels in the 1970s, and his music was recorded by famous musicians such as Herb Alpert, Trini Lopez, and his own father, Lalo. Mark and his father played together in Paris, France and were guests at the White House where Lalo was given a National Medal of Arts from President Bill Clinton.
Mark recently had the opportunity ot tour with Redbone and Cannibal & the Headhunters Band. They played different venues and one of the highlights was backing Denny Laine, formerly of Wings and Joey Molland from the British band Bandfinger.
Besides making music, Mark is passionate about Chicano music and culture. His website, markguerrero.com is dedicated to promoting Mark's music as well as the history of Chicano music in general. In late January, he will be teaching a class on the history of Chicano rock at CSUSB, Palm Desert campus. Mark recently was a guest at fellow Desert Entertainer columnist Gary Walker's English class at C.O.D., discussing the soundtrack to the movie "Zoot Suit," which featured his father's music. Mark will be giving a concert with his six-piece band at his alma mater, Cal State L.A. in December.
We've just scratched the surface of the life of Mark Guerrero. For more, check out his website, visit him in person at one of the restaurants where he performs, or sign up for his upcoming class. You're bound to be entertained.
Mark Guerrero performs at:
Arnold Palmer's on Wednesdays and Thursdays 5:30 to 9:30 p.m. with Paul Villalobos
Lavender Bistro on Sundays from 6 to 10 p.m.
Margarita's on Fridays and Saturdays from 6:30 to 10:30 p.m.
---
Los Angeles Daily News
November 29, 2013
What: A traveling exhibition that showcases the influence Latino musicians have had on traditional genres of music in the U.S., from cha-cha to reggaeton.
Where: Fine Arts Gallery at Cal State Los Angeles, 5151 State University Drive.
When: Noon to 5 p.m. Monday through Thursday and Saturday, until Feb. 9.
Admission: Free.
Information: 323-343-4040,www.americansabor.org
Many people know rock 'n' roll as the offspring of country-western and blues. But not many people know Latino rhythms were also present at the inception.
"In the postwar United States where you start to have what's recognized as youth culture, a lot of the popular music that was going on had Latino rhythms coursing through it," says Michelle Habell-Pallan, co-curator of "American Sabor: Latinos in U.S. Popular Music," a traveling exhibition on view through Feb. 9 at California State University, Los Angeles.
The free, bilingual exhibition developed by the Explore Music Project Museum and the University of Washington and organized by the Smithsonian Institution Traveling Exhibition Services, explores the musical influence and creativity of Latino artists on popular music genres from the 1940s to the present. Historic photographs, album covers, video oral histories from Latin music stars, a mixing board interactive activity and a jukebox fills the gallery with full-length songs near a dance floor where visitors can cut loose.
Along the way visitors learn about key musical figures — including Tito Puente, Ritchie Valens, Celia Cruz, Carlos Santana, Selena — from the five major Latino cities, including New York, Miami, San Antonio, San Francisco and Los Angeles.
"People like me that are born here, we're Americans but we create our own music," says Mark Guerrero, a Chicano rocker and son of bandleader Lalo Guerrero, who got his start in the Eastside Sound as a teen and has since gone on to document the era atwww.markguerrero.com.
As part of the exhibition's programming, Mark Guerrero will perform both his and his father's music at a free concert scheduled for 7:30 p.m. Dec. 7 in the State Playhouse at Cal State L.A.
Guerrero and jazz musician Don Tosti popularized an early jump blues mixed with Afro-Carribean and Latino rhythms known as Pachuco Boogie — the hottest sound coming from L.A. dance halls in the 1940s. Pachuco Boogie would influence what became the Eastside Sound of the 1960s.
This mix of rock, R&B and Latino rhythms and instruments was heard across the globe. In 1965, The Beatles invited Cannibal and The Headhunters — best known for its cover of "Land of 1000 Dances" with the "na na-na-na na" hook — to tour with it.
A photograph of Cannibal frontman Frankie Garcia and Paul McCartney is featured in the exhibition.
"The Eastside Sound was so popular that even The Beatles were listening to it," Habell-Pallan says. "But the Beatles always connected to Latin rhythms from their earliest work if you think about the song 'And I Love Her.' Its got the clave in there. In many ways, we're showing the hidden history of the Latino influence and interaction on rock and roll."
Cal State L.A.'s exhibition features an additional Los Angeles section representing the community cultural spaces that gave rise to new Latino-led sounds from the 1990s on. It includes Zach de la Rocha's Public Resource Center/Centro de Regeneracion in Highland Park as well as downtown L.A.'s Peace and Justic Center out of which came the Black Eyed Peas and Ozomatli and Belmont Tunnel graffiti yard to represent Latino rappers Kid Frost and Mellow Man Ace.
"We wanted to represent, very specifically, the place that East L.A. has had not only in the past, which is represented by the Smithsonian exhibit, but into the present," says Victor Hugo Viesca, onsite curator and Cal State L.A. professor, who put together the L.A. companion portion of the exhibition. "So no matter what kind of music you like, it's probably represented."
In addition to the experience, the exhibition is complemented by an interactive website (www.AmericanSabor.org) that includes expanded exhibition content. A link called Share Your Story allows people to upload their stories, photos and memorabilia.
At the end of the exhibition, those stories will be downloaded and archived by the U.S. Library of Congress for posterity.
A companion book is also in the works.


---

The Desert Sun
Palm Springs, California
July 14, 2014

As a soloist and leader of his own pop-rock band at Las Casuelas Terraza in Palm Springs, Mark Guerrero was a virtual tourist attraction from the late 1980s through much of the 2000s.
The restaurant enticed him to stay by paying him benefits in addition to a salary. But when he wasn't covering the hits at Las Casuelas, he often accompanied his dad — "the father of Chicano music," Lalo Guerrero — at gigs from Mexico City to Paris, not to mention the McCallum Theatre.
But a funny thing happened after his father died in 2005. Guerrero says he was dismissed from Las Casuelas after a change of management, and he started spending more time playing outside of the desert.
He performed on two PBS specials — one with long-time family friend Trini Lopez hosting "Trini Lopez Presents Latin Legends" and another in Pittsburgh with 56 oldies acts, including the late Davy Jones of the Monkees, Paul Revere and the Raiders, Roger McGuinn, The Miracles, Chad & Jeremy and the Latino band, and ? & the Mysterians.
He recently did a tour called Retro Rock with the remnants of Cannibal and the Headhunters, an East L.A. band that toured with The Beatles in 1965 and had a hit with "Land of A Thousand Dances" before Wilson Pickett. They'd also back up other oldies artists, including Denny Laine of the Moody Blues and Wings, Joey Molland of Badfinger and Terry Sylvester of the Hollies.
Guerrero toured with the Native American band, Redbone, famous for "Come and Get Your Love," and was featured along with Little Willie G of Thee Midnighters in a Los Angeles play by Louie Perez of Los Lobos, titled "Evangeline: The Queen of Make Believe."
Guerrero still plays Fridays and Saturdays at Margarita's in Palm Springs and at other clubs during the season, but his dismissal from Las Casuelas Terrazas also gave him time to perform solo concerts and participate in Chicano music lectures.
"It kind of freed me up, so I did a lot more traveling," said Guerrero, 65, of Cathedral City. "I got to do these lectures and shows out of town. They just come up. It's kind of amazing."
To friends who have known him and benefited from his scholarly writing on Chicano music, it's not really amazing.
"Mark really deserves the recognition and I think he's starting to get it," said Chan Romero, a Palm Desert resident who is best known as the composer of The Beatles' early hit, "Hippy-Hippy Shake."
"He didn't get the break he should have. He's one of those guys who has got the talent. He's as good as any of these guys who have made it big, especially the East L.A. groups. He worked with a lot of them. He didn't get the recognition, but he's starting to get mentioned in these books and they're starting to recognize that he's quite a talent."
In 2009, Guerrero's early '70s Chicano anthem, "I'm Brown," was included in an exhibition at the Grammy Hall of Fame in Los Angeles titled "Songs of Conscience, Sounds of Freedom." Others in the exhibit included Bob Dylan, Pete Seeger and Jackson Browne.
Most recently, Guerrero was quoted in two new music books chronicling much of the Southern California music scene, including the Beatles' influence on it.
He's identified as a "Chicano rocker and East Los Angeles music scholar" in "It Was Fifty Years Ago Today: The Beatles Invade America and Hollywood," by Harvey Kubernik.
In "Turn Up the Radio! Rock, Pop and Roll in Los Angeles, 1956-1972," also by Kubernik, he's quoted about the origins of the East L.A. Chicano rock scene, Neil Young and the Beach Boys.
"Mark, in my opinion, is one of the most talented songwriters in any language," said Manuel Montoya, a Palm Springs-based record producer and talent manager specializing in Latino artists. "(He) was part of the artist roster at Capitol Records and A&M. Herb Alpert recorded (his) 'Pre-Columbian Dream.' Just listen to 'On the Boulevard,' 'The Great Mango,' 'Latin Quarter' — lyrically and musically fantastic. He is definitely a talented dude."
Guerrero's father is one of the most celebrated singer-songwriters in Latino music history. He received the National Heritage Award from the National Endowment of the Arts in 1992 and the National Medal of Arts from President Bill Clinton in 1996. The street leading to the Cathedral City city hall is named after him and he has a place on the Palm Springs Walk of Stars.
Mark Guerrero sang on, performed and arranged six of his father's "Las Ardillitas" (little squirrels) children's albums, which are arguably Lalo Guerrero's most lasting legacy in Mexico. He also compiled his father's 1995 album, "Early Classic Recordings 1950-1955," and played on many of his recordings from 1964 on. He wrote and performed "The Ballad of Lalo Guerrero," which appears on the documentary produced by his brother, Dan, "Lalo Guerrero: The Original Chicano."
But Mark Guerrero was enamored by early 1960s rock 'n' roll. He formed Mark and the Escorts in 1963 and played surf music inspired by current Twentynine Palms resident Dick Dale. When The Beatles invaded in 1964, Mark and the Escorts dressed in Beatles-type attire and began playing British Invasion-type music with a Chicano twist.
Mark and the Escorts became an integral part of the emerging East L.A. scene, sharing the same manager as Cannibal and the Headhunters, the Premiers (who hit with Don & Dewey's "Farmer John") and the Blendells (who broke out with Stevie Wonder's "La La La La La"). They had a regional hit with "Get Your Baby," which has since been featured on six compilation albums chronicling the revival of what has been called "the Eastside sound" and the "garage rock exotica" renaissance.
The band's nucleus, including Guerrero on guitar and vocals, bassist Richard Rosas and drummer Ernie Hernandez, evolved into The Men from S.O.U.N.D. and Nineteen Eighty Four and then supported Guerrero as a solo artist on Capitol Records and then A&M Records.
But the labels never really grasped that a Mexican-American like Guerrero could create folk rock sounds as American as, say, a Canadian like Young.
"When I was with Capitol, I did a few country rock tunes and the label said, 'Why is this Chicano guy in L.A. doing country music?' They were like baffled," said Guerrero. "I'm thinking, 'Well, why not?' But they couldn't think of me as just an Anglo-American who can do country."
He recorded "I'm Brown" as a single for Capitol. It was essentially a protest song, said Guerrero. The chorus asserts that "first I'm a member of the human race." He proudly wrote in one of his blogs that "I'm Brown" "can stand alongside James Brown's 'Say It Loud (I'm Black and I'm Proud)' and Helen Reddy's 'I Am Woman' in that they're all anthems about positive self-image and identity."
But the 11 songs Guerrero recorded for Capitol never got released as an album. He concluded, "Capitol didn't think America was ready for a Chicano band sounding like a country rock band."
A&M, which was co-owned by Jerry Moss and Herb Alpert, leader of the Tijuana Brass, bought the masters in 1973 and had Guerrero record four more songs. But, even though this was the height of the singer-songwriter era, they decided Guerrero and his backing musicians should be a Latino band.
"I really kind of regret that I agreed to it," Guerrero said, "because they said, 'You've got to come up with a name now.' I said, 'Well, we're the Mudd Brothers.' I thought that was a cool name. But they said, 'No, no. That's no good. Come up with something that sounds Latino.'
"What we were doing was very Buffalo Springfieldish — Southern California country rock. But they insisted, so I came up with Tango, which is Latin and 'Last Tango In Paris' was out. But it was one of the biggest mistakes of my life because, when the album came out, all it said on the cover was 'Tango.' We weren't even on the cover. So if someone went to a record bin they'd think it was Argentinian tango music. Why would you think it was rock 'n' roll? It really hurt. But, when you're young like that I wasn't strong enough to say, 'I refuse.' "
In addition to "I'm Brown," Tango's self-titled album featured the bilingual song, "Allesandro." But it featured such country rock musicians as John Hartford on banjo and fiddle, and Sneaky Pete Kleinow of the Flying Burrito Brothers on pedal steel guitar.
Moss sat down with Guerrero after the album came out and laid out his marketing plans.
"He said to me, 'How would you describe your music? What genre would you say it fits into?' " Guerrero recalled. "I said, 'Kind of like Buffalo Springfield.' He said, 'I disagree.' " 'Oh, what do you think?' He said, 'Tony Orlando.' I go, 'Oh my God!'
"That shows you how off they were. Guerrero. Orlando. Latino? That's the only thing I could think of (connecting the two artists) because it was nothing like it. So they didn't understand what I was trying to do."
Chicano rock came to be epitomized by the rhythmic sounds of El Chicano, Tierra and Los Lobos, who toiled in East L.A. for most of the 1970s, and later Ozomatli. Today, Montoya prefers the terms "Latino, Hispanic or rock en Espanol" to "Chicano bands." He says industry labels placed an obstacle to Mark that forced him to retreat to the security of local nightclub gigs.
"Mark has trust issues that have held him back," Montoya said. "He felt comfortable in his little gig and he was OK with that. (But) he is a unique talent and deserves to be heard beyond Palm Springs."
But Guerrero began writing about the history Chicano music on his website, markguerrero.com, in the late-'90s. He's written about the East L.A. scene and other Latino artists such as Lopez and Romero.
Romero says those articles have helped his subjects gain greater recognition.
"He has helped a lot of musicians," said Romero, who also is mentioned in Kubernik's new books. "I've had contacts from people who have called me from overseas who wanted me to do some concerts overseas through Mark."
Guerrero now frequently lectures about Chicano music at colleges around the country and always sings some of his father's music, besides his own. He was recently asked to collaborate on a book on the Chicano movement after giving a lecture performance at Ohio State University.
Romero calls him a Chicano culture scholar.
"I went with him to the (California State) university over here a couple months ago in Palm Desert and he put on quite a talk and then he performed," he said. "He had some amazing videos that he showed and a lot of those university students were really impressed with him and his music and what he's done. The young people are really starting to realize who he is."

Same article below in Desert Post Weekly- July 31-August 6, 2014

Same article- Scan of Desert Sun newspaper, page one only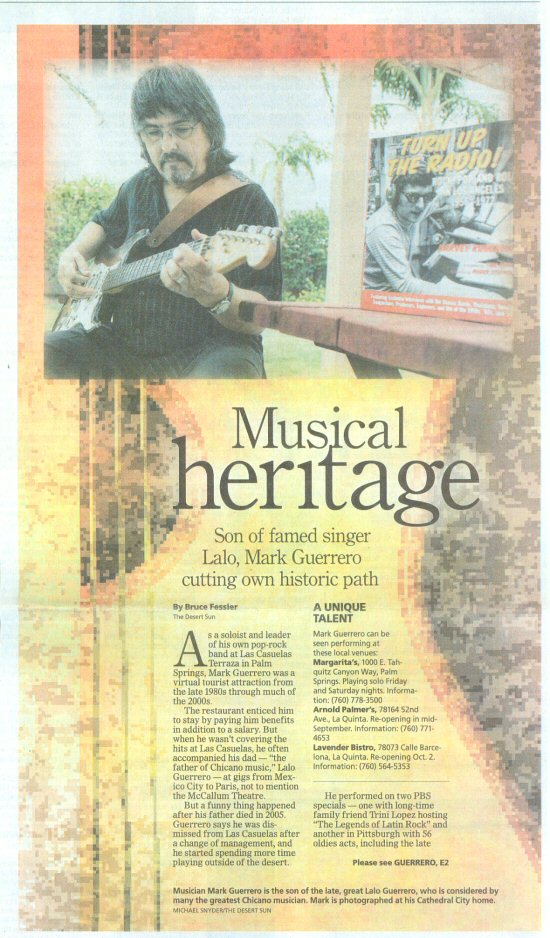 ---
Record Collector Magazine
March 21, 2014
March 21, 2014
by Jim Kaplan~
Los Angeles native and pop and rock music historian Harvey Kubernik has been an active journalist for over 40 years, published six books, penned over a thousand articles and has been acknowledged in over 150 books.
For the last few years, Harvey has written just about every cover story in Record Collector News. I'm constantly receiving fan letters and emails lauding his work and praising his diligent and factual research evident in his interviews and profiles in our pages.
The book company Otherworld Cottage Industries in February just published Harvey Kubernik's book It Was Fifty Years Ago Today: The Beatles Invade America and Hollywood.
In it, Harvey discusses the Beatles and their unquestionable Southern California bond with Clem Burke, Richard Bosworth, Roger McGuinn, Dino Danelli, Chris Darrow, Ram Dass, Johnny Echols, Kim Fowley, Allen Ginsberg, Mark Guerrero, George Harrison, Rodney Bingenheimer, Gene Aguilera, Jim Keltner, Dan Kessel, David Kessel, Paul Body, Albert Maysles, D.A. Pennebaker, Andrew Solt, David Leaf, Ravi Shankar, Don Peake, Phil Spector, Andrew Loog Oldham, John Van Hamersveld, Ken Scott, Doug Fieger, Ringo Starr, Sir George Martin, Giles Martin, Berry Gordy, Jr., James Cushing, and many more musicians, DJ's, writers and pundits.
Harvey's book is a very important look at the Beatles and the band's previously unexamined relationship to the musical heritage of Los Angeles and Hollywood from the late-1950s to mid-'70s.
---
Los Angeles Times
November 8, 2014

---
Inland Empire Weekly
San Bernardino, California
March 19, 2015
Article also appeared in
El Chicano- Rialto Record- Colton Courier

Guerrero employs various avenues to advance history of East L.A. music
March 19, 2015Culture, Education, history, Music, San Bernardino, Schools
By Harvey M. Kahn

Mark Guerrero
When Mark Guerrero delivers a lecture, performs or teaches at one of the two Cal State University San Bernardino campuses, he has some of the best first-hand knowledge to draw from. At a moments notice, Guerrero can conduct a two-hour, multi-media presentation about the history of East Los Angeles music of the 1960's or about the Beatles.
Guerrero fronted the group, Mark and the Escorts from East L.A. in the 60's and was a part of a style of Chicano music that was heard from Whittier Boulevard to New York City. Although Guerrero has appeared on many recordings with fellow chart toppers, he never received the international notoriety like neighbors, Cannibal & The Headhunters, Thee Midniters, the Premiers or the Blendells. He did have top notch producers and managers like Billy Cardenas and rock and hall of famer Lou Adler.
"It was amazing and exciting to be witness to that huge music scene coming from such a small, low-middle class area of unincorporated Los Angeles. It was like the music boom in Liverpool that was happening simultaneously in the music hotbed of East L.A,." said Guerrero. "It promoted our culture and gave us a sense of pride." He listed others from the area like Los Lobos, Tierra, and El Chicano who had million sellers a few years later. Guerrero named a lot of others with great talent from the area but who never had big hits such as "Little Ray" Jimenez.
Guerrero feels that his generation of revolutionary East L.A. musicians and those just prior had the benefit of living in a prime location at a prime time. "Rock was still young in the early 60's. We were a half hour away from Hollywood recording studios, TV and radio stations and there were plenty of places to play. Bands could get gigs at teen night clubs, parties, or dances. There are hardly any teenage venues today," said Guerrero.
He told of a whole new wave of Chicano musicians who are carrying on the tradition of East L.A music. "There are many new bands who are representing East L.A. very well such as Chicano Batman."
Guerrero is considered the leading historian on the 1960's East L.A. sound. It was his famous father, Lalo Guerrero who created the sounds preceding the East L.A. rock music explosion.
The late Lalo Guerrero, whose career started in 1939 is nationally recognized as the "Father of Chicano Music." Lalo Guerrero originated a style of Chicano music that honored his Mexican heritage through many styles including ballads, parodies and children classics. He composed music that used pachuco slang on tunes like Marihuana Boogie and Los Chucos Suaves.
Much the same, the younger Guerrero performs concerts, benefits, tributes and lecture/performances. He was in Santa Cruz last month for a benefit show at the Resource Center for Non-Violence for the local day worker center. There, he screened the documentary, "Lalo Guerrero-The Original Chicano" and performed a concert of his and his father's music.
Mark Guerrero feels there are pros and cons from being the son of an icon to Chicanos. At first, he never mentioned it because he didn't want to use his father's name to advance his own career. "I am proud of my father and his talents but I never wanted people to minimize my accomplishments because of who my father was. As I got older there was no way to separate us."
At his lecture on race and racism at Cal State University San Bernardino, he lets his songs tell some of the story such as his Capitol Records release, "I'm Brown," and some of his father's like, "No Chicano's on TV." At the CSUSB, Palm Desert Campus he just finished teaching a class on the History of the Beatles Part 1, for the school's Osher Lifelong Learning Institute.
He is preparing to teach Beatles Part II. "The Beatles revived rock and roll and made it into an art form. They did everything well," said Guerrero.
In his bio, it lists that Guerrero had "I'm Brown" included with songs of Bob Dylan, Woody Guthrie, and Pete Seeger, etc. at the Grammy Museum in a 2009 exhibit called Songs of Conscience, Sounds of Freedom. He earlier consulted and contributed material to an exhibit for the Smithsonian Institute entitled American Sabor: Latinos in Popular Music.
Guerrero has been a performer non stop since 1963. Now approaching an age when most think retirement, he's got the stamina to do shows six nights per week at Lavender Bistro in La Quinta, plus all of his other ventures.
He recommends to younger musicians to play everywhere you can even if it's for free. "Never dog it and don't let your ego get in the way."
He said he never liked hard drugs, cigarettes or alcohol and thinks that is why he's still going strong. Like other's who lived in the 1960's, he witnessed the already well documented story of drug abuse. He tells serious musicians that drugs will hurt their career. "It's hard to remain dependable if you become a drug user or an alcoholic. To keep working you have to be disciplined."

---
Record Collector Magazine
September/October, 2016
Mark Guerrero is one of the contributors offering his thoughts on The Beatles' classic album "Revolver." Other contributors include Michael McDonald, Burton Cummings, and Steven Van Zandt.

The Beatles remain evergreen with this month's celebration of the album Revolver on its 50th anniversary; Eight Days a Week, Ron Howard's new documentary about the band's touring years; and a new CD release: The Beatles Live at The Hollywood Bowl
BY HARVEY KUBERNIK
I first heard "Love You To" from the Beatles' Revolver LP in July 1966 previewed on radio station KRLA from Pasadena California during deejay Dave Hull's shift.
He back announced the album selection and touted George Harrison's vocal and sitar instrument on the Harrison-penned tune, along with referencing the Indian classical musician Ravi Shankar.
"Love You To" was very spooky. This was by the Beatles? It sounded like something from the 1952-1954 black and white television series Ramar of the Jungle starring Jon Hall.
The first week of August '66 I purchased my monaural copy of the album at the legendary Frigate Record shop at the corner of Crescent Heights Blvd and 3rd Street in L.A.
In 1965, George Harrison discovered the sitar around the set of Help! Later that same year, he would record with it on John Lennon's "Norwegian Wood."
In 1997, I conducted an interview with Harrison published in HITS magazine. George recalled his earliest attempt at playing the sitar with the Beatles as "Very rudimentary. I didn't know how to tune it properly, and it was a very cheap sitar to begin with. So 'Norwegian Wood' was very much an early experiment. By the time we recorded 'Love You To,' I had made some strides."
"More than any other record of the time, Revolver was responsible for turning millions of people onto LSD," concludes Roger Steffens, author of The Family Acid and the forthcoming So Much Things to Say: The Oral History of Bob Marley.
"If you wondered what a trip would be like, all you had to do was put on earphones and close your eyes and wonderment abounded. Stunning new instruments inserted into the pop panorama; harpsichord and tablas and sitars and tapes spun backwards into a Delhi rave up. Prompting acidic reflections, feeling hung up but not knowing why, who cares as long as we can drift in this pill-shaped undersea craft and maybe find some of that Sunshine acid, John closing it all out in his submarine skipper voice. No doubt this is their finest most consistent and innovative work, a quantum leap forward."
Richard White, who just published the book, Come Together: Lennon and McCartney in The Seventies, summarizes the Revolver period Lennon and McCartney team.
"While The Beatles clearly had no real interest in replicating or writing with their live sound in mind in the studio, the Revolver sessions began with one eye clearly on the future with 'Tomorrow Never Knows' and ended with another of Lennon's partly nostalgic 'She Said She Said.' Lennon was still pouring energy and invention into his music, whilst beginning to confront or drawing on his pain for the good of his art. Despite McCartney's superior compositional phase of songs of string-laden astringency nestled beside warm amorous classicism, the previously strong bond in Lennon and McCartney's song writing relationship was now showing signs of tension: Revolver would provide a final full gasp of old-fashioned Beatle unity."
David Leaf, an adjunct professor at UCLA's Herb Alpert School of Music, was the writer and producer of the documentary, "You Can't Do That: The Making of 'A Hard Day's Night" and co-wrote/directed/produced the feature documentary, "The U.S. Vs. John Lennon."
David Leaf: Less than a year after 1965's landmark Rubber Soul, which remains the Beatles album that changed my life the most, came Revolver, a record that unlike its predecessor was much more diverse sonically (ranging from the classically infused 'For No One' to the wildly
experimental 'Tomorrow Never Knows'), an album that in retrospect is a microcosm of what would come next (meaning Sgt. Pepper) and perhaps indicative of the creative directions (and differences) the group would fully express two years later on The White Album.
"That said, in 1966, before there was a national American rock press, we were all way too innocent to know or understand that at the time, the Beatles were growing up, not to mention ingesting the mind-altering substances that would come to define the rock world in the mid-late 1960s.
"As a 12 or 13-year old, that was all beyond my experience. I only knew how the music made me feel, and I loved it. A lot. With their touring/live performing days almost completely behind them, on the verge of beginning to grow apart personally, the Beatles were still artistically in sync as a group, especially in their desire to fully explore new musical worlds, to truly embrace the recording studio as an instrument to be mastered and used to express the ideas swirling around their fertile creative brains. Producer (Sir) George Martin and engineer Geoff Emerick (his first album with the Fabs) were only too happy to do everything within their power (and that of the new electronic gear) to bring those sonic explorations to fruition.
"With the benefit of hindsight, it's also easy to hear that Revolver's diverse song and soundscape was the key step from the instrumentally almost-folkish, stripped-down Rubber Soul to Sgt. Pepper, which all sounds of a piece. And with the knowledge we now have of the division of duties within the group, the album also reveals the different musical directions that John and Paul were exploring as songwriters, the change in the balance of writing (Paul becoming equally if not more prolific than John) and with its lead-off track ('Taxman') by George, an indication that he was beginning (with two songs!) to really come into his own as a songwriter.
"With Revolver at its center, these three albums (remarkably composed, recorded and released in less than two years) remain the Beatles most musically influential, important and arguably greatest three consecutive albums. That kind of states the obvious.
"Revolver was a turning point, released in the wake of the Brian Wilson-produced classic Pet Soundsand Bob Dylan's Blonde on Blonde, the hallmark of an era of growth in popular music where the industry itself was evolving from the 45 RPM single as the most commercially important format to the moment when the album (as represented by 1967's Sgt. Pepper) became the key frame for artistic expression in popular music.
"For me, as I've grown up and older, my love for and appreciation for Revolver has exponentially expanded. The compositions, arrangements and recordings have more than stood the test of time. I now get how great this album is. Still, regardless of what your favorite cuts were/are on Revolver (my Top 5 have basically remained the same for decades: 'Got To Get You Into My Life,' 'Eleanor Rigby,' 'I'm Only Sleeping,' 'For No One,' and 'Here There and Everywhere'), the album finds the Beatles on the brink of bringing their musical revolution to the masses."(copyright DLP, Inc. 2016)
Rodney Bingenheimer: Revolver is my favorite album by the Beatles. 'And Your Bird Can Sing' is the track I love the most. It reminded me of the Byrds."
In re-visiting Revolver 50 years on, I asked authors, poets, musicians, writers, filmmakers, engineers, recording artists, and deejays to comment on it.
Dr. James Cushing: Here's something important that's easy to forget: in 1966, in the USA, Yesterday and Today came out on June 20 and Revolver came out August 8. Revolver, that is, entered the world while Yesterday and Today was just coming off from five weeks at #1.
"It was impossible in 1966 to hear Revolver outside the context Capitol had established for it by releasing this earlier package, now remembered more for the 'butcher cover' controversy than for its effect on its millions of American listeners.
"Y&T was an 11-track mishmash LP cobbled together by Capitol from tracks that had been released as singles and that appeared on the UK editions of Help!, Rubber Soul and Revolver — yes, American turntables spun 'I'm Only Sleeping,' 'And Your Bird Can Sing' and 'Dr. Robert' seven weeks before British turntables did. However, this honestly-titled hodgepodge almost makes sense as an album when heard as a companion piece to the far more important, band-authorized Revolver. Y&T jumps between genres almost as easily as the later album would, mixing hard rock, soft rock, psychedelia, country-western, and a string quartet on one 27-minute platter.
"Even as a teenage Beatle fan in 1966, I heard Y&T as transitional, a souvenir of last year's hits ('Day Tripper') and a sign of things to come. Revolver made the transition sharply clear even before I slit the shrink-wrap: here was a black-and-white art-collage on the front cover, on the back cover an inky-black photo of the band wearing shades indoors, no promo man's liner notes, no little ads for "Something New" or "The Beatles' Story." Then, despite the familiar Capitol rainbow label, the disc delivered lyrics about income taxes, lonely people dying, making love all day long, knowing what it's like to be dead. There's something that sounds like a children's record in there too. And that's just side one.
"The teen I was couldn't know, of course, that 1966 was the year the three creative forces in the Beatles developed their own musical identities to the point that only the eclectic could be reasonably expected.
"Two years later, 'this same group' gave us a self-titled double album with 'Honey Pie' and 'Revolution 9' on the same side. But who was this group, these formerly lovable mop-tops we thought we knew, who seem now to be in the middle of so much controversy? Revolver is remembered as the first time this question became relevant, and that album performed a miracle. But Yesterday and Today was the dress rehearsal for that performance."
Steven Van Zandt: It was extra notable by being the first album to have three George songs while we in America (as usual) lost three of the coolest tracks ('I'm Only Sleeping,' 'And Your Bird Can Song,' and 'Dr. Robert'-the second coolest after 'She Said She Said!') as the American company continued to turn every two albums into three. Oh, and one more thing we should mention, they wouldn't decide to stop performing live until the next disastrous tour a few months later but they may have had a premonition at that point which undoubtedly opened their minds to even more adventurous artistic exploration."
Clem Burke: As I sit here in my office listening to the Beatles' album Revolver on my laptop while holding the vinyl in my hand. Yes it occurs to me that just by looking at the cover art you already knew the LP would be different, and it was! As much as Rubber Soul influenced everyone from Brian Wilson to The Byrds and on, Revolver was the real experimental leap forward for the Beatles. Here is where they really began singing about things other than love and girls. Songs like 'Taxman,' 'Eleanor Rigby,' and yes 'Yellow Submarine' were taking their inspiration from a very different place. Both lyrically and musically they were provocative, and who exactly was 'Dr. Robert?'
"Having Ringo play along to a tape loop for 'Tomorrow Never Knows' was extremely inventive and unheard of at the time, not to forget the use of horns and strings and sound collage as well. This is the Beatles pop art album, from the multimedia cover to the eclectic points of reference in the sound and lyrics it is in my opinion the sound of things about to change not only in music but in the world as we knew it."
Burton Cummings: You've got to remember that Revolver starts with George's 'Taxman.' The album rocks hard. There were more ballads on Rubber Soul. We [Guess Who] did a television show 1966-1968 for the CBC [Canadian Broadcasting Company] Let's Go. Sometimes we had to learn 12 covers in an adjacent radio studio that were then broadcast. We did 'Got to Get You Into My Life.' Later I sang 'Yellow Submarine,' complete with a megaphone. We later did 'Hey Jude' and some of our originals like 'No Time.'"
Gary Pig Gold: "Don't let the cover art fool you. Klaus O.W. Voormann's perfectly pop-artfully black-and-white bandscape houses sounds inside which are absolutely nothing but full-sonic-scale widescreen Technicolor in their breadth, depth and scope. Thanks in no small part to newly-hired recording engineer — make that recording pioneer, in fact! — Geoff Emerick, George Martin was suddenly able to refine then enhance Paul McCartney's, and especially John Lennon's aural imaginations as never ever before.
"No less an authority as G. Harrison always claimed Rubber Soul and Revolver as Parts One and Two of the same album. But while the former was certainly a giant step for mankind as the once mop-tops wound down their big bang, one listen to the first ten seconds of, for example 'Tomorrow Never Knows' — the first track the band tackled in '66, believe it or not! — we realize that, once again, those Beatles were leading us down all new paths.
"Revolver also marks the start of Lennon and McCartney — and yes, Harrison now too — establishing their own individual, not to mention highly individualistic approaches to not only song writing, but song crafting. The lilting Spoonful of 'Good Day Sunshine' and the wholly Pet Sound-ing 'Here, There and Everywhere' must surely be our old pal Paul, through and through. But the tart, sharp, cynically trebly 'She Said She Said' and 'And Your Bird Can Sing?' That can only be the Chief Beatle …post some heavy Psychedelic Experiencereading, that is. Oh! And lest we forget, the hitherto Quiet tax-evading Beatle brings all things Indian finally to the fore on 'Love You To'; the sitar no longer being mere Norwegian wall decoration.
"All in all? Not at all bad for a band who not that many months earlier, were still content with Merseybeating the world into submission.
"Now, for younger and/or less adventurous listeners out there, none other than The Monkees magically appeared scant weeks after Revolver's release to keep that happy-go-spunky spirit of A Hard Day's Night alive and well up the charts. But for those ready and willing instead to float upstream as it were, the Beatles' latest thirty-four-minutes-forty-three served notice that the future was to come in twelve-inch as opposed to seven-inch slices, songs were to sing more — much more — than strictly 4/4 girl/boy, and you just might want to leave Shea Stadium far, far behind in preference to the nearest private, darkened room and a set of quality headphones.
"After all, it is knowing."
Richard Bosworth: The Beatles leapt to the future with the release of Revolver. During this period they began utilizing studio technology and orchestral instruments to expand their sound beyond the standard electric and acoustic guitars, bass guitar, drums and vocals.
"Although a string quartet had been introduced on 'Yesterday' (U.S. single release) and flutes complement 'You've Got To Hide Your Love Away' (Help! LP) the Beatles embraced symphonic musical instruments and world music elements in a big way during sessions for Revolver and continued to do so with every subsequent album they created. Paul McCartney's songs got the new approach with the heavy brass of 'Got To Get You Into My Life' and French horn as the solo instrument enhancing his 'For No One.' McCartney and George Martin doubled down on the strings using an octet for 'Eleanor Rigby,' the first of the group's recordings not to include a Beatle on musical instrument.
"George Harrison had gained much proficiency playing the sitar since it's 'Norwegian Wood' debut from the Rubber Soul LP and his 'Love You To' features the sound of classical Indian music, musicians and instruments (tabla, tamboura) for the first time in the group's canon. Harrison had made great strides as a songwriter since his first composition 'Don't Bother Me' from the 'With The Beatles' LP and on Revolver he has an unprecedented three songs with 'Taxman' as the stunning album opener.
"Technically Revolver added a much more liberal usage of the audio compressor via the Fairchild 660 and Altec 436 (both American manufactured). Electric guitars, bass guitar and vocals, pretty much everything but particularly the drums were intensely compressed and limited. Ringo Starr did some of his best work onRevolver. Highlights include 'Paperback Writer' (US single release), 'Taxman' and my personal favorite 'She Said She Said.' Ringo always mentions 'Rain' as his ultimate performance.
"It's interesting to note that the first song recorded for Revolver was 'Tomorrow Never Knows.' John Lennon always set the direction and tone of Beatles albums as his songs were invariably attempted at the initial recording sessions.
"I worked with The Hollies at Abbey Road Studios and Studio Manager Ken Townsend personally walked me through how he invented ADT (automatic double tracking) while he was Chief Technical Engineer at Abbey Road during the bands entire recording career. This was first implemented on Lennon's vocal track and on the final verse the vocal was additionally processed through a Leslie rotating speaker (normally used on the Hammond organ) giving the performance an otherworldly quality. The first time in history the device was used for this purpose.
"Another new gadget introduced on Revolver was the VSO (variable speed oscillator) and the Beatles used this to great effect for the duration of their recordings. It involves adjusting the speed of the capstan motor of a tape machine during recording, playback or both and it greatly changes the timbre of the music. On 'Tomorrow Never Knows' it can clearly be heard on John's vocal to give a thinner boyish sound. This was also used to an even greater degree on 'Rain' (single release from the Revolver sessions).
"The use of backwards recording made its first appearance on the band's records during Revolver as well. George Harrison's brilliant backwards recorded lead guitar solos on 'I'm Only Sleeping' and 'Tomorrow Never Knows' and the use of tape loops (both forward and backward recordings) during the mix down process on a typically recorded Beatles basic track made 'Tomorrow Never Knows' and Revolver their most innovative pop record to date."
Michael Fremer: The warmth of Rubber Soul — cover art and music — replaced with cold, hard, pen and ink, black & white psychedelia-evoking isolation and alienation on the front cover (other than George's out of synch cowboy get up) and an acid trip eavesdrop on the back one, signaled an album of schizophrenic impulses. What other '60s rock group could start an album with a rich man's complaint about the British tax code, follow it up with a string drenched song about old age and loneliness and then move seamlessly on to a trippy, dreamy, ground shifting one infused with disorienting, backwards guitars , followed by a sitar and tabla slathered call to love making? What other group could then latch together a sublime ballad lifted by McCartney's finest melody ('Here, There and Everywhere') with a delightful, child's fantasy ('Yellow Submarine') followed by a side-ending song describing what it's like to be dead?
"And that's just the first side of the Beatles best album (U.K. tracking). The second side is equally epic and brilliantly at odds with itself, beginning with another slyly trippy number, centered with another song of alienation followed by a bitch about the British health care system! (who else could manage this and keep the feet tapping?) and ending with a song that leaves one in a cold, disorienting sweat every play, even after fifty year's worth! And please let's not forget one of George's most intriguing songs that also served as a shout out to be heard above the Lennon-McCartney duopoly.
"1966 was the year when the ground gave way, the old order crumbled and as usual during that decade, Beatles led the way musically and stylistically.
"On a personal note, I was struggling to not get thrown out of Cornell, trying to switch colleges under a tension filled 'you have one semester in the division of unclassified students to get at least a B average or you are out proviso,' overseen by a dean whose last name was Rideout. I was living with two kids I didn't particularly like, in the living room of their apartment, not because they wanted me there, but because they couldn't afford the rent themselves. Though at that point my life sucked on every level, Revolver provided the barbed musical salve that got me through a tough time.
"Revolver for me, is still the musical door that swings on one side to the joyous, post-Kennedy assassination release provided by The Beatles and on the other side, to the darker, drug drenched post 'Summer of Love' era that was still a Sgt. Pepper's Lonely Hearts Club Band away."
Mark Guerrero: John Lennon once said that Rubber Soul was the pot album and Revolver the acid. Whatever part the psychedelic substance played it's obvious the Beatles' music and consciousness took a quantum leap on the latter record.
"Revolver introduced many sonic and musical innovations such as Lennon's voice through a Leslie speaker, backwards guitars, tape loops, microphones placed deep into the bells of horns, and a track using all Indian instruments and musicians on a pop record. The songs and performances on Revolver are fantastic and so is the sound of the album. I love the tone of the guitars and bright splashing cymbals on 'She Said She Said,' as well as the unorthodox time changes. Some of McCartney's greatest songs were on Revolver such as 'Here, There, and Everywhere,' 'For No One,' and 'Eleanor Rigby.' George Harrison's harmony guitar parts on 'And Your Bird Can Sing' that weave their way through the chord changes are brilliant. George also asserted himself with one of my favorite Beatle songs, 'Taxman,' which powerfully opens the record.
"It's mind-boggling that in a mere three years the Beatles evolved from the innocence of 'I Want To Hold Your Hand' to mature songs even profoundly confronting the subject of death. Their previous album Rubber Soul gave us a first glimpse of the rock & roll album as an art form. Revolver brought the concept to fruition.Revolver is the album that set the stage for Sgt. Pepper widely regarded as the Beatles' greatest album. For me Revolver reigns supreme."
Celeste Goyer: Wrapped inside my primary memories of the Beatles' Revolver, which I came to as a teenager in the mid-70's, is an image of a brightly colored portable turntable sitting on a chair in the bedroom of my brother's best friend. In the autumn of 1966 I was five, and some clear-sighted person in marketing had realized the sales potential of releasing 'Yellow Submarine' as a single aimed at the hipper parents of the under-12 demographic. My little friends and I listened to this track repeatedly, with relish, (but never to my recollection turned it over to hear 'Eleanor Rigby').
"I was a late bloomer in the 'inner exploration' realm, but once in high school, Revolver's surreal collage cover was a clear invitation to utilize it as a soundtrack for such journeys of the head. What a departure from Yesterday and Today's bored, put-upon Beatles in a cheesy pose they clearly thought was rubbish. The fuse is lit in Revolver for the artistic, creative individuating bomb that would carry them, and us, both deeper into our own trips and further out into the wider world. It's impossible for me to listen to Revolver now without recalling sunny mornings in my first apartment at the time of one's life when everything is better with a toke, and without feeling especially grateful for George Martin's adventurous arrangements — hello, backward lead guitar and electric sea birds!"
Gene Aguilera: So maybe Eleanor Rigby is really my favorite Beatles song. McCartney ups the ante on the meaning of loneliness, which takes me to the graveyard every time. Ray Charles' version is just as good as the original, which is not an easy thing to do. 'The Quiet Beatle' George Harrison gets a bigger taste this time around — more vocals and more sitar. And when did the Beatles ever open up an LP with a George Harrison song? You can hear the Beatles maturing lyrically and musically on Revolver, setting the stage for Sgt. Pepper's arrival the following year."
Mark Ellen: I remember hearing Revolver for the first time the week it came out, when I was 12, and being thrilled by the exuberance of 'Taxman,' 'Got To Get You Into My Life' and 'Good Day Sunshine' but now — five decades later and so familiar with the overall picture — my ear tunes to the tiny mesmerizing details, the sitar and tambura, the harmonium, the clavichord, the tape loops, the inward-looking mysteries of tracks like 'I'm Only Sleeping' and 'Tomorrow Never Knows': still fresh, comforting and wildly experimental."
Paul Body: Revolver is 50. Talking about the Revolver import with extra songs. Came out the Summer of Love, the band of course on the Sunset Strip. The Beatles growth period had really started with Beatles For Sale then Help! then Rubber Soul and now an album named after a gun. It was a louder than Rubber Soul. There were always these rumors that the Beatles were going to record in Memphis, that never happened but there were soulful horns on 'Got To Get You Into My Life.' The horns were cool but Macca's bass line was something else.
"Revolver was lot more sexy than Rubber Soul. Just listen to 'I'm Only Sleeping,' slinky like Monica Vitti walking near the Trevi Fountain, all backwards guitars and stuff with Ringo's steady drumming. Revolvermight have been George's album. It was the album in which he bloomed. 'Love You To' was World Music before it had a name.
"Another reason why Revolver was cool was because it came out the year I graduated high school. I wasn't an adult but I wasn't a school kid anymore either. 'Here, There and Everywhere' always made think of one of my major crushes, man did I have it bad for Evelyn Grimes. SUMMER. Then there is the jingle jangle of 'She Said She Said,' very Byrds like.
"My favorite on Revolver has always been 'And Your Bird Can Sing.' It's perfect, more jungle jangle but you can just about do the Funky Chicken to it, propelled once again by Macca's bass line. Of course the Summer of '66, will also be remembered because that was when they did their last shows. At this point, they weren't following, they were laying the road map for others to follow. What great song 'For No One was.' So was the Rockabilly bounce of 'Dr. Robert.' We found out later that Dr. Robert had those special pills.
"The First time I heard 'I Want To Tell You,' George's song, it knocked me for a loop. By this time the Beatles were out of the suits, they were totally Carnaby Street. Just check out the back cover of Revolver, granny glasses, puffed sleeve shirts and George looking a bit like Keith Richard. 'Tomorrow Never Knows,' more world music from the Beatles, Indian influence. My dear old great aunt couldn't wrap herself around 'Tomorrow Never Knows.' It wasn't mop-top music."
Bill Mumy: Revolver changed everything. Again. As the Beatles had been doing on a regular basis for a few years already. I bought the album for $2.83 from Ben who owned Do Re Mi Records on Pico Blvd in West LA. I rode there on my purple Schwinn Stingray bike.
"The Klaus Voorman cover was stunning and led to hours of close inspection. The photo on the back of the Fab all wearing sunglasses was somewhat spooky yet full of positive vibes at the same time. Those DRUM SOUNDS! The punchy BASS SOUNDS. The swirling vocals and biting guitars… George Martin's arrangements and production… All FAB to the max.
"But it really boils down to the songs. And I can't think of another album in history that has better ones! To this day it shines as a brilliant project by the greatest and most magical band in the history of the universe! It is, in my opinion, quite probably the best album ever made."
Daniel Weizmann: I was born in '67 and pushed on the swings to Revolver — back then I thought their hair on the cover was spaghetti! But now it doesn't seem like a coincidence that Revolver has that black and white neo-realist album cover. The album — which starts with 'Taxes' and ends with 'Eternity'- — faces adulthood head on, and plays like little black and white vignettes of Kitchen Sink drama.
"Death is ever-present here, from 'Eleanor Rigbys' lonely urban graveyard scene to the death-wish come-on in 'Love You To' to the final repudiation of death itself on 'Tomorrow Never Knows.' 'Yellow Submarine' is WW2 turned inside out, and 'She Said She Said' introduces a whole new kind of masculine wound — unbirth without even the knowledge of death. You're even advised to declare the pennies on your eyes before you hit the casket — yeah it's wit, but it's also the recognition of civilization's grave demands. Then there's the title of the album, a play on the LP and the pistol, an instrument of Life and an instrument of Death.
"The Beatles would always be great, of course, but for my money they struck a daring balance between Hard Truths of Reality and the Visionary Beauty of Soul here that they never top."
---
Harvey Kubernik has been a music journalist for over 44 years and is the author of 8 books. During 2014, Harvey's Kubernik's Turn Up the Radio! Rock, Pop, and Roll in Los Angeles 1956—1972 was published by Santa Monica Press.
His 2015 and 2016 titles on BackBeat Books have chronicled Leonard Cohen and Neil Young.
Select portions of Kubernik's work can be viewed on www.cavehollywood.com.
Earlier this century Kubernik was a featured speaker discussing audiotape preservation and archiving at special hearings called by the Library of Congress. This decade he has been seen in BBC-TV music documentaries on Queen, Bobby Womack and Meat Loaf reaching a worldwide audience.
---
Mark Guerrero (2016)
Lalo Guerrero Statue Unveiling Event
The Desert Sun
Palm Springs, California
December 18, 2013


Previous page || End of media clippings pages