Chicanos In Paris: Lalo Guerrero Concert
February 8, 1998
by Mark Guerrero
On February 8, 1998, I performed with my father, Lalo Guerrero, at an American music festival, which took place at the Cité de la Musique in Paris, France. The festival took place over two days, Saturday and Sunday, February 7 & 8. On Saturday, gospel music was represented by the Shaw singers, featuring the Reverend Johnny Shaw; country blues of Mississippi was represented by a trio led by R.L. Burnside; and in the Texas blues category, it was the legendary Clarence "Gatemouth" Brown showing how it's done. I heard some of Brown's set from backstage and was impressed with the sophistication and virtuosity of his 5 piece band, Gate's Express. On Sunday, it was Chicano music's turn, represented by two artists, my dad and Flaco Jimenez, the legendary Tex Mex accordionist and former Texas Tornado.

The Chicano music portion of the show happened as a result of the efforts of Roxanne Frias. Roxanne is a Chicana, who grew up in West Covina, California and graduated from Stanford University. She's lived in Paris for many years, where she has hosted television and radio shows. Roxanne is tri-lingual and highly motivated by her love for music, particularly Chicano music. She called my brother, Dan, who negotiated the deal and made arrangements for the journey. According to said deal, my dad could bring two musicians with him for backup. My dad asked me to come since I knew most of the songs he wanted to perform for the Parisians and wanted to do a father-son thing. We thought we'd mix some rock and blues, with some comedic and traditional Mexican genres. He also wanted me to do two of my songs in the show. The next step was to find a bass player. As fate would have it, my dad ran into Lorenzo "Lencho" Martinez at a revival of the play "Zoot Suit" in San Diego. Lorenzo had played guitarrón for an event or two for my dad and had done a great job, so Lencho was invited to join our little group. We wanted to have a drummer, so we asked Flaco Jimenez' son, David, if he would play with us since he would be there anyway, and he agreed. So we sent David a tape with the songs we were to do and began rehearsing with Lorenzo. We decided on a twelve song set, which represented a good cross section of my dad's material. We selected pachuco boogie, blues, comic songs, ballads, corridos, and rock & roll songs (see program song list below). Once word got out about the concert, filmmaker Sean Carrillo volunteered to bring a video crew and document the trip. I'm grateful for that, since this experience is now documented on video as well. Sean's been editing the footage and will soon have a documentary of our Paris experience, including some concert footage. The L.A. Times also sent journalist Michael Quintanilla with us on the trip so he could write an article, which eventually appeared in the L.A. Times' Life & Style section on March 11, 1998. The title of the piece was "The Musique Man" and in bold letters beneath the main title, "In Paris Lalo Guerrero, the Father of Chicano Music, Has Crowds Dancing in the Aisles and Shouting for More."

On Thursday, February 5, 1998, we boarded a plane at LAX bound for Paris, France. My dad, my brother, Lencho, and I were picked up at the airport in Paris by Roxanne and taken to our hotel, the same one that would house Flaco Jimenez and his band. The next day, after a short rehearsal in the hotel room with Flaco, we were taken to a radio station to promote the Sunday show. Flaco's band also came along. My dad and Flaco did interviews and performed a song together live on the air. I also performed one of my songs on the air ("Oh Maria") with the accompaniment of Flaco on accordion. After the radio broadcast, we all went out to a Tex Mex restaurant that night and had a good time. (Paris has every kind of restaurant imaginable, many of which we sampled.) When we weren't promoting the show or rehearsing, we managed to do some sight seeing; Notre Dame Cathedral, the Eiffel Tower, and lunch at the Louvre. Paris is indeed a beautiful city. Our rehearsal took place on Saturday afternoon in a rehearsal room at the venue. We were treated in a first-class manner, whether it was food, drink, or equipment needed. We were provided with the amplifiers we requested and when we asked for a cowbell, it appeared it in matter of minutes. After rehearsing with David Jimenez, it was apparent he was great on the corridos and other traditional forms, but wasn't experienced with sambas and some of the other genres. In stepped Max Baca, who was there to play bajo sexto with Flaco. It turns out he's also an excellent drummer. He jumped in and played the remaining songs we needed. It was a little harrowing having only one day to rehearse twelve songs with two drummers, but it worked out great. (Max Baca later would play with the Super Seven with Cesar Rosas, David Hidalgo, Freddy Fender, et. al). Flaco's band consisted of Flaco Jimenez, accordion; David-Garcia Jimenez, drums; Max D. Baca, bajo sexto; Louis Mendez, bass; and Raul "Nunie" J. Rubio Jr., lead vocals.

The next day, Sunday, the show was upon us and we were a little nervous. After all, it was our first gig, plus we had only one day of rehearsal with the drummers. Not to mention we were in Paris, France playing for an audience of 800. Not a bad debut for our new band. It was a late afternoon show in an indoor theater with a balcony. After all the anticipation and preparation, the 45 minute show flew by and we got a great reaction throughout the performance. As planned David Jimenez played drums on the first six songs to be replaced by Max Baca for the final half of the set. It went without a hitch with both drummers doing a fine job. I played lead guitar and was musical director for the band. I also sang lead vocal on two of my songs, "On the Boulevard," a bilingual rock song with a Latin groove, and "Oh Maria," a rock norteño-style polka in English. Both songs received a very good reaction. It was the most emotional show I've ever played, given it was my first time playing live in a band with my dad. Also, we were performing Chicano music in France, in effect being ambassadors of Chicano music. When our show was over the ovation was incredible. The audience clapped in rhythm and whistled, which is a compliment in that and other parts of the world, and it continued for minutes. Flaco did his set with his band and got the crowd up and moving. I was invited on stage with Flaco's band for their finale, which was "La Bamba." I had a great time playing with Flaco and his band. Next Lalo and Flaco performed three songs backed by our band, "El Borlote (Compadre Pantaleón)," "El Chicano," and "La Minifalda de Reynalda." The audience loved the show. Chicanos had invaded France and were victorious. After the show, both bands, Roxanne, the film crew, the journalist, my brother, and the whole entourage, went out to dinner at a Mexican restaurant to celebrate the concert. The restaurant was so authentic that it literally felt like we were in Mexico. We ate, drank margaritas, and had a blast. The food was good, the drinks were flowing, and there was even a good Mexican mariachi playing. We couldn't have asked for a more fitting ending to the trip. My dad got buzzed and went up and sang a few songs backed up by Lorenzo Martinez on guitar. Flaco got up and played too. It was a memorable and amazing day and the entire trip to Paris was a special experience for all of us.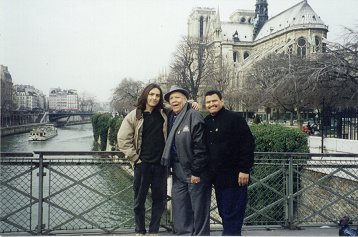 Mark Guerrero, Lalo Guerrero, and Lorenzo Martinez
(Paris, France 1998- Seine River and Notre Dame Cathedral in background)


Flaco Jimenez, Mark Guerrero, and Lalo Guerrero
(after the concert)

Scan of Actual Program Below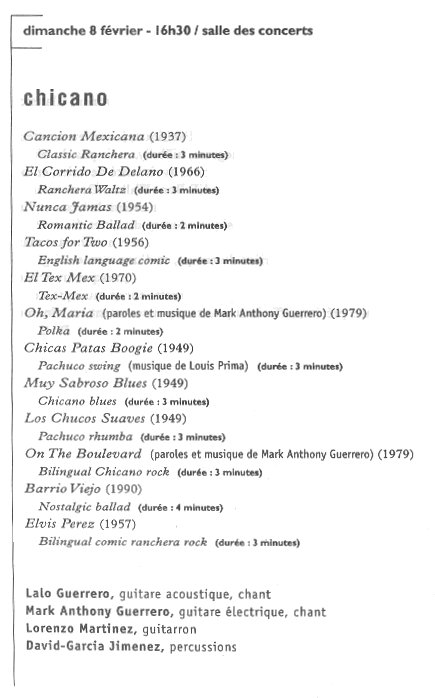 Click here for Paris concert videos


Previous page || Go to next miscellaneous writings article
Return to miscellaneous writings index page