Unplugged with Eric Burdon For the Heartland
May 20, 1995
by Mark Guerrero
In the aftermath of the tragedy of the Oklahoma City bombing, many benefits were organized to raise money for the families of the victims. One such benefit was done in the Coachella Valley in Southern California. The Coachella Valley includes many cities such as Palm Springs, Rancho Mirage, Palm Desert, and Indio. This benefit, called "Heart To the Heartland," came in the form of a concert at the Fantasy Springs Casino in the city of Indio, about 20 miles from my home. The performers included rock & roll hall of famer Eric Burdon, formerly of The Animals, Cesar Rosas of Los Lobos, country singer Johnny Lee of "Looking for Love" fame, Lalo Guerrero, Chicano comedy group Culture Clash, and others.

The day of the concert, I decided to go to the sound check in the afternoon to say hello to Cesar Rosas. I had just spent several days with him and my dad at Cesar's recording studio where work had been done on the "Papa's Dream" children's CD by Los Lobos with Lalo Guerrero. I helped with negotiations for my dad with the record company and wound up singing background vocals on "La Bamba." So I showed up at Fantasy Springs Casino in the afternoon and found Cesar at the sound check. While we we talking Eric Burdon showed up. Cesar introduced me to Eric while the house band was rehearsing. They were supposed to back up Eric on his portion of the show. Meanwhile Cesar, who was going to back Eric in addition to doing his own set with the band, began to rehearse some of the Animal's songs with Eric. I picked up an acoustic guitar and joined in. I knew the songs and was particularly helpful with the chord changes on "Don't Let Me Be Misunderstood." Eric decided he'd rather have Cesar and I back him up "unplugged" (acoustically) than be backed up by the full band. I had another gig that night for which I had to make quick arrangements to cover to be free to do it.

For the concert that night, Eric, Cesar, and I were joined by local harmonica player, Hurricane Ramon. We opened with "See See Rider," went into "Don't Let Me Be Misunderstood," and closed with "House of the Rising Sun." Eric doesn't always do "House of the Rising Sun," which was the Animal's first and biggest hit record. We didn't know if we were going to do it until the moment on stage when he called the song. We hadn't rehearsed it, but we all knew it. The packed house went nuts. The set went well and we got a great response. I was amazed that Eric Burdon's voice sounded stronger than ever. He's a great blues singer and a force of nature. I was thrilled to meet and play with Eric, particularly because I saw The Animals with Eric Burdon perform in New York City at the Paramount Theater in 1964 when I was fourteen years old. I was in New York visiting my brother who had been living there since 1962. They sounded great and were being given the "Beatlemania" treatment by their fans. Also, my teenage band, Mark & the Escorts used to play many songs by The Animals including "See See Rider," "We Gotta Get Out of This Place," "It's My Life," and "House of the Rising Sun." From that context you can imagine why it meant a lot to me to be on stage with him.

The show had quite a finale with all the performers on stage singing "Drift Away" by Dobie Gray. I don't know how that song was selected, but I happened to know it well and had done it occasionally at my cover gigs. Johnny Lee sang a verse, everybody sang the chorus, Eric Burdon sang the second verse, and everybody sang the second chorus. During that chorus, I got up the nerve to ask Eric, who was standing next to me, if I could sing the bridge. He graciously handed me the microphone. I sang it with the performers and audience clapping along and Eric pointing at me in approval. It was a great moment for me, which I have on audio and video tape for posterity.
See photos below and a link to a video gallery where you can see our performances of "See See Rider," "Don't Let Me Be Misunderstood," and "House of the Rising Sun."


Cesar Rosas, Eric Burdon, Mark Guerrero, and Hurricane Ramon
(Fantasy Springs Casino, Indio, California, 1995)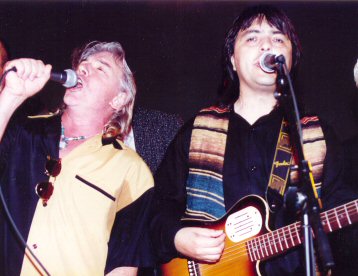 Eric Burdon & Mark Guerrero

Previous page || Go to next miscellaneous writings article
Return to miscellaneous writings index page