Lalo & Amigos Tribute Concert
October 11, 1992
by Mark Guerrero
On October 11, 1992, one of the greatest collections of Chicano talent ever assembled gathered at the McCallum Theater in Palm Desert, California to honor the "Father of Chicano Music," Lalo Guerrero. It was organized by my brother, television producer Dan Guerrero, whose contacts and influence, combined with the respect and goodwill towards my dad, attracted an impressive list of Chicano musicians, actors and comedians. All but one group performed for no fee (try getting a mariachi for free). The proceeds from the event went to the College of the Desert 's efforts to establish a branch in the Eastern Coachella Valley and for scholarships for Latino students at C.O.D. The setting was awesome, a beautiful 1200 seat auditorium, which was filled to capacity, with a stage set worthy of a network television show. It was loaned to my brother by a set designer friend named Jimmy Cuomo. Lighting design was donated by Frank Olivas and sound by Ish Garcia. The performers in the first half of the show were backed by a combo led by guitarist Marcos Loya, which featured Bobby Loya on trumpet and Bobby Navarrette on sax. (Loya and Navarrette have played with top Chicano bands such as Tierra, Thee Midniters and El Chicano). The second half was backed by the great and famous Mariachi Sol de Mexico de Jose Hernandez. The idea of the show was to have each artist perform one or two songs written by my dad (Lalo Guerrero). The list of performers was as follows: Cheech Marin, Paul Rodriguez, Little Joe, Carmen Moreno, Culture Clash, Latins Anonymous, Gilberto Valenzuela, Mercedes Castro, Lupita Castro, Gloria Becker, Don Tosti, Mariachi Campana de America, Trio Charro, Daniel Valdez, and yours truly. Chicano icon Cesar Chavez and actors Edward James Olmos, Rosanna DeSoto, Tony Plana, and Ada Maris were also there to speak about my dad's contributions, as did playwright/director Luis Valdez via video tape.

The show opened strongly with Daniel Valdez, star of the play and movie "Zoot Suit," performing "Los Chucos Suaves" decked out in a zoot suit surrounded by world class dancers. They were Urbanie Lucero, Susie Armijo, Miguel Delgado, Ismael Sanchez, and Sal Lopez. Later in the show Daniel did "Vamos a Bailar," which features different musical styles including swing, mambo, and danzon, which Daniel and the dancers performed with the proper attitude and style. The choreographer for the numbers was Lettie Ibarra. Other highlights of the show were: Don Tosti performing "Mambo No. Cero" on vocal and piano, Carmen Moreno belting out "Canción Mexicana" with Mariachi Sol de Mexico, Gilberto Valenzuela crooning his recent recording of "Nunca Jamas," and Little Joe and Mariachi Campana de America doing "La Minifalda de Reynalda," which is a norteño/rock song. The mariachi did the rock & roll sections complete with leg kicks. In the comedy category, Cheech Marin sang "No Chicanos on TV," Paul Rodriguez performed "No Way Jose," and Chris Franco did "Tacos for Two." All three renditions were hilarious. Also, comedy groups Culture Clash and Latins Anonymous performed hysterical ensemble pieces. I performed two songs on the show. The first was "Do You Believe In Reincarnation," which is a 6/8 doo wop song with English lyrics that has always been one of my favorite recordings by my dad. I had three excellent female background singers; Brenda McFerrin (Bobby McFerrin's sister), Donna Dougherty, and her sister Karista Cook. I played piano and sang to the accompaniment of the Marcos Loya Band. Later in the show I did a song I wrote for the event that was a tribute to my dad's life and music entitled "The Ballad of Lalo Guerrero." This song was performed solo with acoustic guitar. A major highlight for me was when Cesar Chavez approached me after the show and said "that's a beautiful song you wrote for your dad." You can read the lyrics to the song on my selected lyrics page. Unfortunately, the event was not professionally recorded or video taped, but amateur video does exist. After the show there was a party at Las Casuelas Nuevas Restaurant in Rancho Mirage, a community west of Palm Desert. Most of the performers showed up and a good time was had by all.

Two years later, on May 22, 1994, "Lalo & Amigos Comicos" took place again at the McCallum Theater, also produced by Dan Guerrero. It featured comedians Willie Barcena, Cris Franco, Culture Clash, Cheech Marin, John Mendoza, Paul Rodriguez, Diane Rodriguez (no relation), Liz Torres, Luda Vika, and Lalo Guerrero. Once again Marcos Loya and his band provided musical backing. Proceeds went to student scholarships for College of the Desert.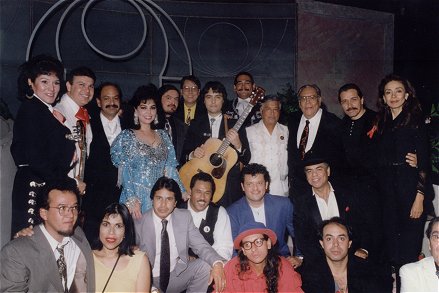 Lalo & Amigos
(McCallum Theater, Palm Desert, California, 1992)

top row, left to right-
Carmen Moreno, Jose Hernandez, Cheech Marin, Lupita Castro, Marcos Loya, Dan Guerrero, Mark Guerrero, Juan Ortiz, Cesar Chavez, Lalo Guerrero, Edward James Olmos, and Rosana De Soto
bottom row, left to right-
Willie Loya, Diane Rodriguez, unidentified, Daniel Valdez Paul Rodriguez, and Little Joe Hernandez
bottom right corner, left to right-
Richard Montoya, and Herbert Siguenza

See Flyer Below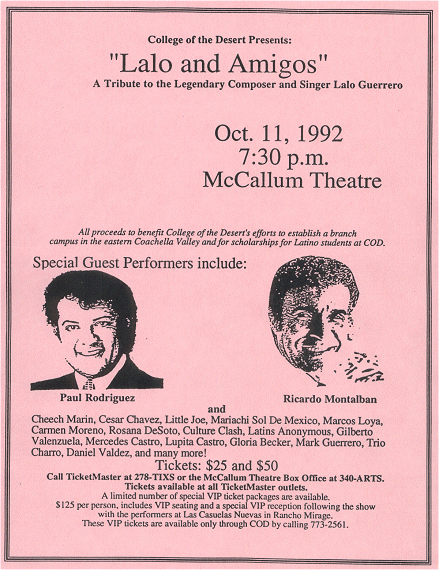 (Ricardo Montalban was scheduled, but did not attend due to illness)

Click here for Mark Guerrero performance videos from Lalo tribute


Previous page || Go to next miscellaneous writings article
Return to miscellaneous writings index page