Book Review: "Voices of Latin Rock"
by Mark Guerrero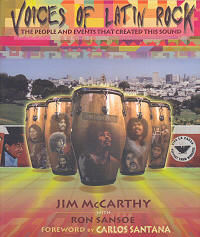 At last, a book about the San Francisco bay area Latin rock boom of the late 60s that spawned Santana, Malo, Sapo, Azteca, and others. "Voices of Latin Rock" by Jim McCarthy with Ron Sansoe, published by Hal Leonard, fills in many of the missing pieces in my knowledge of Latin rock history of Northern California. Being a part of the Southern California Chicano rock scene since the early 60s, what went on in the parallel universe of the bay area was unknown to me and my contemporaries. We certainly heard Santana's first album, which contained the mega hit "Evil Ways," coming over the radio airwaves and were profoundly influenced by it. However, how it all happened and the musicians involved was not available to us until now. Jim McCarthy, who is described in the book as is a first generation Irish kid living in England, got into Latin rock via American soul and r&b to the point where his hair (both facial and on his head) and style of clothing, reflected the splendor of the Northern California Latin rock brethren. McCarthy also has books about Kurt Cobain, Eminem, and Tupac Shakur to his credit. One of the things that became clear to me about a major difference in what went on in the bay area and East L.A., where I grew up, was the diversity of the Latino community. In East L.A., the Latino population was almost exclusively Mexican-American (Chicano). In the San Francisco/Oakland area there were many people from the Caribbean, Central America, and South America, mixed in with Mexicans and Chicanos. This diversity brought into the musical melting pot the instruments and musical styles of the various countries of their origins. What happened in San Francisco in the late 60s was spontaneous, original, and very important in the history of Latin rock, however, contrary to the book's pronouncement that it was where and when Latin rock was born, I must respectfully disagree. My dad, Lalo Guerrero, was writing and recording swing, blues, and boogie woogie in the late 40s, as well as rock & roll in the mid-50s, in Spanish and bilingually. Ritchie Valens' "La Bamba" could also certainly be called Latin rock as well. This is not to diminish the importance or the power of the explosion that occurred in San Francisco's Mission District in the late 60s. They fused Latin rhythms and musical forms from all over the Latin world with rock, blues, psychedelia, funk, and jazz in a way that had not been done and moved us along the evolutionary path on which we travel today.
"Voices of Latin Rock" is well written and well researched, with many of the principals interviewed for the book. It gets deeply into the music, personalities, drugs, and the surrounding social context of the times, in a straight forward and honest way. Near and dear to my heart, is a chapter entitled "Viva Tirado / East L.A.," which talks about El Chicano in some detail, along with other East L.A. bands of the era. El Chicano would often play up in the bay area along side of the San Francisco Latin rock bands of the era. The chapter also rightly credits East L.A.'s Village Callers with recording a version of "Evil Ways," which preceded Santana's hit version. Other East L.A. bands mentioned include Thee Midniters featuring Little Willie G., Cannibal & the Headhunters, Macondo, Tierra, Redbone, Yaqui, and my 70s band, Tango. It also mentions the Eastside bands that followed in the late 70s/early 80s; Cruzados, Los Illegals, and Los Lobos. A later chapter called "Love Will Survive" tells the story of Little Willie G.'s tenure as Malo's lead vocalist on their fourth album, "Ascension." He also toured extensively with Malo that year. The chapter also gives some additional information on Little Willie G.'s former band from East L.A., Thee Midniters, and his later work with Little Ray Jimenez in God's Children. As I mentioned earlier, San Francisco's Mission District and East L.A. of the period were parallel universes, separated by a mere 400 miles. Both areas had a Latin music boom; an art movement, which included an explosion of urban street murals; a cultural renaissance which included a return to ones Latin roots regarding clothing, food, music, theater, and literature. We were both struggling over the Viet Nam war and the disproportionate numbers of Latinos that were being sent to a war whose purpose was not clear. We also both supported Cesar Chavez and his farm worker's movement and union, the UFW. Aside from all the detailed information on the music and musicians of the period, the book has a forward by Carlos Santana, over 800 rare photographs, a cast of characters list, glossary of terms, resources page, and discography. "Voices of Latin Rock" is an essential part of any Chicano/Latino music library. I highly recommend it. The day after finishing the book, I went up to San Francisco, where I was scheduled to speak to a Chicano music class at U.C. Berkeley. While in town, I toured the Mission District and visited with several musicians who were in the book. The story of that visit will follow this article when it's finished. For more information on "Voices of Latin Rock," visit VoicesofLatinRock.com.


Previous page || Go to next miscellaneous writings article
Return to miscellaneous writings index page