My Visit To a Parallel Chicano/Latino Universe- San Francisco
April 5- 6, 2005
by Mark Guerrero
On April 5, 2005 I took a plane up to the San Francisco Bay Area mainly for the purpose of speaking to a Chicano music class at U.C. Berkeley. It was the class of Alfred Arteaga, a brilliant teacher and author, who had e mailed me a year or so previously to tell me he enjoyed my website and often used it as a resource for his class. Several of his students had also e mailed me and I had done an interview with one of them for a class paper she was doing. This all led to an invitation to speak to and with his class. I figured while I was going up there I could meet with some musicians I knew, some through my website that I hadn't met in person. What made the trip of particular current interest was I had just finished reading the book "Voices of Latin Rock," about the San Francisco Latin Rock boom of the late 60s and beyond. Among many other things, the book talked about the Mission District and many of the people and places relevant to the period. I call this article "My Visit To a Parallel Universe," because what was going on in the San Francisco Chicano/Latino community in the same era was very similar musically, socially, politically, and culturally to what was happening in East L.A., where I grew up. Even though East L.A. and the Bay Area are a mere 400 or so miles apart, the communities in both areas were blissfully unaware of what was occurring in in each other's barrio, except for the bands from each area who surfaced nationally.
Through my website, I had met a musician/producer by the name of Marcus Lopez, who has an excellent salsa band called Cubanacan and is also the bass player for the Jorge Santana Band. He kindly took the day off to show me around the Mission District (La Misión). We walked around the district and had lunch in a down home mom and pop Mexican restaurant. We also went into an old night club called "El Toro," which used to be called "The Night Life." This is one of the clubs where Santana, Malo, and East L.A.'s El Chicano often played in the late 60s/early 70s. According to Marcus, who was there at the time, the room and stage are virtually the same as they were then. The Mission District felt similar to East L.A., so I felt very comfortable and at home there. After drinking sangrias in another restaurant, he took me to the studio of producer/musician Greg Landau. Greg has produced many Latin and Latin-American artists over the years and achieved much success and critical acclaim. He graciously played some of his current projects for us which sounded very impressive. Earlier that same morning, I had breakfast with and interviewed college professor/band leader, Dr. Loco (Jose Cuellar). He's had a very interesting life, which combined his scholarly interest in anthropology and his love and talent for music. He's a PhD in anthropology by day and leads his band Dr. Loco's Rockin' Jalapeño Band by night. His story will soon appear on "My Chicano Music Articles" page. After meeting with Dr. Loco, I headed down the 101 toward San Jose to meet with the original Malo drummer, Richard Spremich. I had previously featured a CD by his current band, The Damascus Experiment (DMX), on my website, "What's New," page 3. We talked about some of his experiences in the early Malo, his new band, and his drum instructional DVD that's soon to be released.
The next day I headed for Berkeley to meet with Mr. Arteaga's class. I invited pc Muñoz, a talented speaker/songwriter as he describes himself, who has a couple of excellent CDs out. He's not really a rapper, but more of an urban poet with some excellent songs and a positive approach. He had visited me in Palm Springs previously so this was an opportunity to hang out with him in his town. We've found we have a mutual admiration for each other's music and have become good friends in the process. The lecture lasted two hours and went very well. I showed video, played music clips, spoke about Chicano music, my dad (the late Lalo Guerrero), and the Eastside sound. The students were very bright and interested in the subject. They asked many good questions and we had a great dialogue. After the class, Mr. Arteaga, pc, and a couple of students had pizza, beer, and soft drinks outdoors at the Bear's Lair campus bar/cafeteria. After some good laughs and conversation, pc took me to see a studio in which he's been recording out in Oakland. After checking it out, I headed across the Bay Bridge back to San Francisco to meet with Abel Zarate, an original guitarist/arranger/songwriter with Malo. Abel had been prominently featured in the aforementioned book "Voices of Latin Rock." We met at a small restaurant and had a very good meal and even better conversation. He proved to be a very bright and nice man. It was not a formal interview, but two musicians talking about music and some of the experiences we've had in the music business. I particularly enjoyed hearing about some of what he experienced in the early days of the San Francisco Latin rock explosion, including his positive encounters with Carlos Santana. Abel was lead guitarist, along with Jorge Santana, in the original Malo and was co-writer on four songs on the first album, including their big hit "Suavecito." He also was one of the main arrangers on the album and contributed heavily to the second Malo album called "Dos," before leaving the band. Abel currently has a CD out entitled "Soul Redemption" with his new group the Zarate Pollace Project, which I've since featured on my website ("What's New," page 3). It's an excellent instrumental record with music he describes as "Afro-Brazilian global beat jazz." It showcases his fine guitar work as well as his compositional skills. I had also been trying to hook up with Abel's early Malo band mate Richard Bean, who was the lead singer and main writer of "Suavecito." We didn't make that happen, but he did call me at my hotel on my first night in town and we had a good conversation. I'm going to interview him at a later date for the story of his other band, Sapo. I had a great time in the Bay area and met and hung out with some great and interesting people.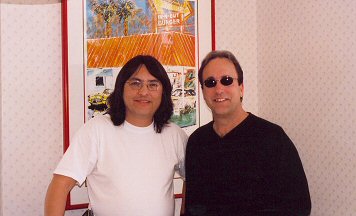 Mark Guerrero and Richard Spremich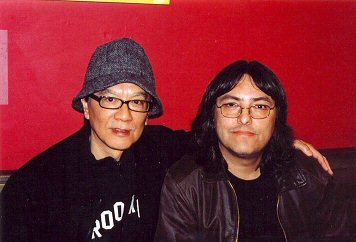 Abel Zarate and Mark Guerrero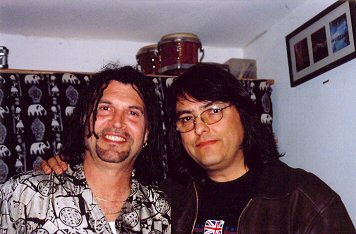 Marcus Lopez and Mark Guerrero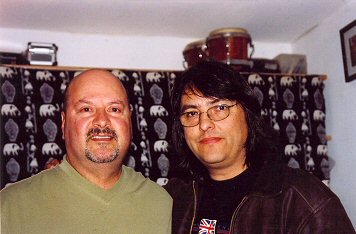 Greg Landau and Mark Guerrero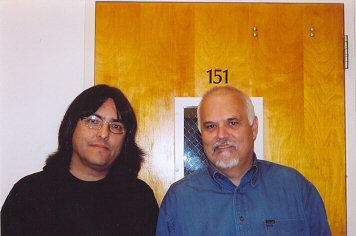 Mark Guerrero and Alfred Arteaga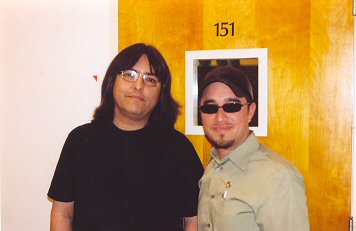 Mark Guerrero and pc Muñoz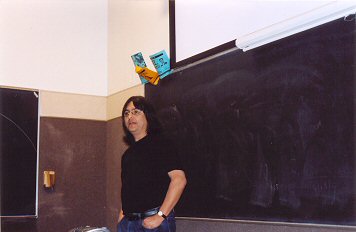 Mark Guerrero in front of class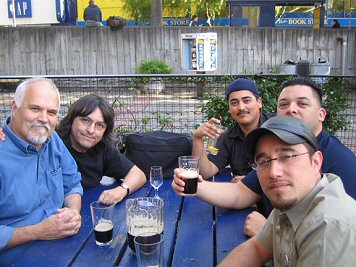 Alfred Arteaga, Mark Guerrero, Carlos Arceo,
Alfredo Romero, and pc Muñoz

Previous page || Go to next miscellaneous writings article
Return to miscellaneous writings index page