The James Burton International Guitar Festival
August 19-21, 2005
by Mark Guerrero
On the weekend of August 19th, 20th, and 21st, 2005, I attended the first annual James Burton International Guitar Festival in Shreveport, Louisiana. Generally, I write about musical experiences in which I'm a performer. In this case, even though I was a spectator, I feel inspired to write about and share the experience. The things that made it so special were the people I met, the locale and setting, the history I witnessed, and the phenomenal show I saw. For those who may not know, James Burton is a pioneering guitarist who first came to prominence playing with Ricky Nelson. In the early days, he could be seen at the end of many Ozzie & Harriet television episodes when the irrepressible Ricky sang his rock & roll. James Burton later was no less than the guitar player for the king, Elvis Presley, beginning in the late sixties. He's played on countless hit records, including Dale Hawkins' original version of "Suzy Q" (creating the famous lick used by John Fogerty on his later version of the song) and "Working Man Blues" by Merle Haggard. James Burton was inducted into the Rock & Roll Hall of Fame by Keith Richards in 2001. The guitar festival's weekend included: a three day trade show (kind of a mini NAMM show), the unveiling of a statue of James Burton in front of the historic Shreveport Municipal Auditorium and next to a statue of Elvis Presley, and a five hour show featuring such legendary musicians as Dr. John, Steve Cropper, Jeff "Skunk" Baxter, and Johnny Rivers. Current stars included Eric Johnson and Brad Paisley. The concert took place on the hallowed stage of the Municipal Auditorium, where the legendary Louisiana Hayride radio show originated. Elvis Presley made his first major radio debut on its stage in 1954.
Aside from being a fan of James Burton's guitar work, what prompted my traveling to Shreveport began in the mid-eighties. At the time, I was in an acoustic duo called Armstrong & Guerrero. We made our living performing in night clubs and restaurants in the Orange County area, south of Los Angeles. We also played and sang on each other's individual recording projects. We were both singer/songwriter/guitarists and, if I may say so, we were very good. Our harmonies were very tight. After playing together for four solid years, we decided to go into a studio and record a lot of the songs we had been doing on our gigs. Enter Dan Shepherd, whom Alex had met at the time. Dan was, and is, a recording engineer, concert sound man, musician, guitar and microphone dealer and collector, and a knowledgeable music lover. One afternoon in 1986, Alex and I went into Dan's 16-track (on 2 inch tape) studio behind his house and recorded 24 songs singing and playing at the same time. No overdubs. Every song was done in one take, with the exception of two songs we did in two takes. In a matter of a few hours, we had recorded all the songs. We did it mainly for posterity, but also sold some at our gigs in audio cassette form (CDs weren't invented yet). Dan loved the recordings and passed a cassette on to James Burton, who was, and still is, a good friend of his. Dan later told us that James was impressed and enjoyed our tape. Next thing we knew, Dan invited Alex and I to go with him and James Burton to hear singer/songwriter James Intveld at a club in Pasadena, California. (James is a rock and rockabilly artist, whose guitarist brother was tragically killed in the plane crash that claimed Rick Nelson in 1985.) We all hung out for the night and had a good time. James Burton was very nice and easy to be around. Move the clock ahead a mere twenty years and Dan calls me to tell me about the James Burton International Guitar Festival. He encouraged me to go. I decided to do so and called Alex, who also decided to make plans to attend. Alex and I stopped playing as a duo about 15 years ago, however, Alex has played with me in my concert band, Mark Guerrero & Radio Aztlán since 2002 and previously (in the late 90s) played concerts with me and my dad in Lalo Guerrero with Mark Guerrero & the Second Generation Band. On Friday, August 19th, Alex and I met at the Dallas/Ft. Worth Airport, Alex flying in from a vacation in New Hampshire and I out of Ontario, California. We made the three hour drive in a rental car down to Shreveport, where a profound musical adventure awaited us.
On Saturday afternoon, we went to the trade show. There I met Johny Barbata, who had an area set up where he was selling his autobiography. I talked with him quite a bit over the two days. Johny has a magnificent history as a rock drummer. He was a member of The Turtles in the 60s, playing on "Happy Together," "Eleanor," and other hits. Later, he joined Crosby, Stills, Nash, and Young, with whom he toured and played on their "live" album, "Four Way Street." From that incredible gig, he joined the Jefferson Airplane, who evolved into the Jefferson Starship. Johny played on many of their albums, including their mega hit "Red Octopus" and its major hit single "Miracles." He also played on Graham Nash's classic "Songs for Beginners," Neil Young's "Time Fades Away," Stephen Stills' first solo album, and many more. It turns out, Johny and I knew a couple of people in common, my former bass player Rick Rosas (who now is working with Neil Young) and Joe Wissert, who produced The Turtles "Happy Together" and my 1973 A&M album "Tango." I bought Johny's book, which I read on the plane home, and was amazed by his story. Yes, he spells his name Johny with only one "n". Sharing the space with Johny at the trade show, was John B. Ryland. John was selling his autobiography too, entitled "How I Got the Hip Disc Jockey Blues." He was a popular disc jockey in Denver in the early 70s, who went by the name of John St. John. John later became a major record promotion man. His stories of sex, drugs, and rock & roll are wild and quite amazing. He told me many himself and I got the rest from his book. Aside from all the instrument booths, there were live bands playing. Most impressive that day was Greg Koch. He's a magnificent telecaster player and hilarious and entertaining guy. One memorable line was "this guy can do things with a guitar that (pick a name) couldn't do to a farm animal." He also gave a great demonstration on the "chicken picking" guitar style. Greg records his own CDs and works for Fender.
At two o'clock we all went down to the municipal auditorium for the unveiling of the James Burton statue. Most of the performers who were to play that night were in attendance. It was very hot and humid, but nobody seemed to mind. It was obviously an historic occasion we were all pleased to have witnessed. James said a few words at a podium next to his statue and afterwards a media gathering took place on the second floor of the auditorium. In the media room, I met and spoke with Jeff "Skunk" Baxter, who's one of my favorite guitar players. He was a member of Steely Dan, and later the Doobie Brothers. Jeff and I also had Rick Rosas as a common friend. I told him his solo on Steely Dan's "My Old School" from their "Countdown To Ecstasy" album remains one of my all-time solos on record. He was very nice and I was happy to meet him. Next, I met the legendary Dr. John (Mac Rebennak). We had Hirth Martinez as a common friend. (You can read about Hirth elsewhere on my website.) Dr. John played on Hirth's 1977 Warner Brothers album, "Big Bright Street." Mac was happy to hear that Hirth was doing fine. He said he'd love to have a copy of that album so I told him I'd send him one. It was quite a gathering in the media room. One could see Brad Paisley, Eric Johnson, Steve Cropper, and others around the room. There was also a table with about 15 paisley telecasters that were to be given to all the performers on the bill that night. All the musicians signed all the guitars, instant collector's items.
That evening around 6 o'clock, we all poured into the auditorium for the big show. The lineup was as follows: The Johnny A Trio (from Boston), Jeff Baxter, The Nelsons (twin sons of Rick Nelson), Jeff Cook (formerly of Alabama), Johnny Rivers, the Johnny Hiland Trio, Roscoe Beck/ Greg Koch, Jerry Donahue, Seymour Duncan, Sonny Landreth, Eric Johnson, Doyle Dykes, Dr. John, Steve Cropper, Steve Wariner, and Brad Paisley. What a lineup! All the performers came and played gratis. The proceeds went to The James Burton Foundation, which is dedicated to providing scholarships and musical instruments to children as well as young adults. The performers came to honor James Burton and to help the children in the process. The entire concert was video taped with several cameras for a future DVD. Highlights for me included Jeff Baxter's solo instrumental version of "America the Beautiful," Doyle Dykes' incredible version of "How Great Thou Art" (his acoustic solos were jaw dropping good), an impromptu jam with Brad Paisley and Eric Johnson, and Dr. John's set that included Steve Cropper and James Burton on guitar. With the same lineup, Steve Cropper sang "In the Midnight Hour," which he co-wrote, and "Dock of the Bay," on which he played guitar and was co-producer in 1967. The Nelsons sang a few of their dad's hits with James Burton on guitar. Amazingly, it was the first time they had played with James. I understand they're now doing a DVD project with him. Johnny Rivers did some of his big hits, including "Mountain of Love" and "Secret Agent Man," his voice sounding as good as it did in the 60s. There was a cavalcade of great guitar players like Johnny A, slide guitarist Sonny Landreth, Steve Wariner, Seymour Duncan, Jeff Cook, Johnny Hiland, Greg Koch, and Eric Johnson. I didn't realize that Brad Paisley was such a great guitar player. The guy can sing and play. He definitely held his own with Eric Johnson. Everyone seemed to really enjoy being a part of this show and event. The auditorium was filled with enthusiastic and appreciative people, who were fortunate to have witnessed such a great and historic show.
After attending the trade show on Sunday afternoon, the highlight of which was a guitar seminar by Jeff Baxter, Alex and I went to dinner with my friends John and Marylou Rowlands. John was there as the official photographer for the event. John happens to live in the Palm Springs area as I do. John Rowlands has an astounding resumé, having photographed The Beatles, Rolling Stones, and The Who in the 60s, and just about every rock artist you can think of over the years. After a great Cajun meal, Alex and I went back to the hotel pleased with the way things went over the weekend. Just as we got to the hotel, I got a call from Dan Shepherd inviting us back to the same restaurant where we had just eaten, to join him and his wife Betsy and James Burton and his wife Louise. We went back to the restaurant where James told us many stories of life on the road with Elvis, Jerry Lee Lewis, and Ricky Nelson. After dinner, we all went to James Burton's night club, which is now closed to the public. We spent another couple of hours hanging out and talking with James. It was an unexpected and happy ending to a great musical journey I'll never forget.
Festival Brochure and Shreveport Photo Gallery Below

Photo Gallery

Johny Barbata & Mark Guerrero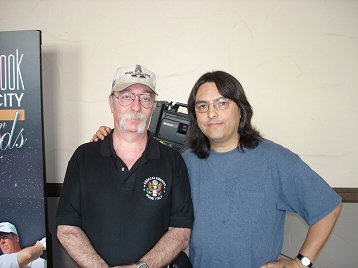 Jeff "Skunk" Baxter & Mark Guerrero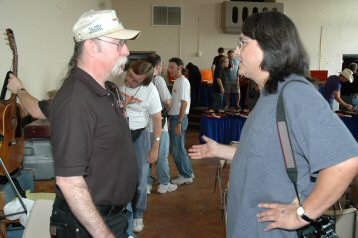 Jeff "Skunk" Baxter & Mark Guerrero
(photo by John Rowlands)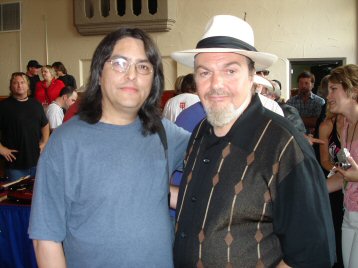 Mark Guerrero & Dr. John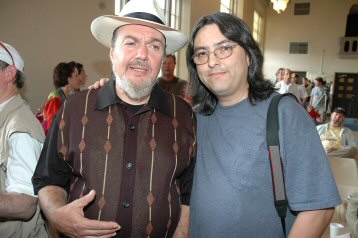 Dr. John & Mark Guerrero
(photo by John Rowlands)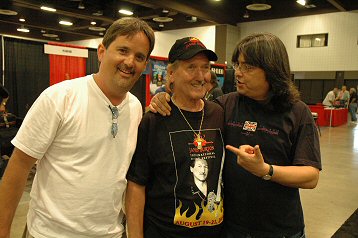 Alex Armstrong, James Burton, & Mark Guerrero
(photo by John Rowlands)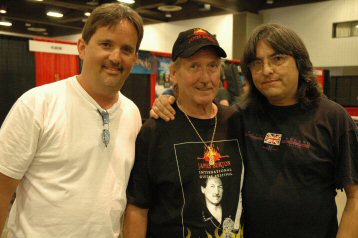 Alex Armstrong, James Burton, & Mark Guerrero
(photo by John Rowlands)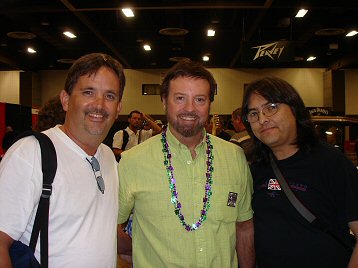 Alex Armstrong, Jerry Donahue, & Mark Guerrero

Steve Cropper
(at the trade show)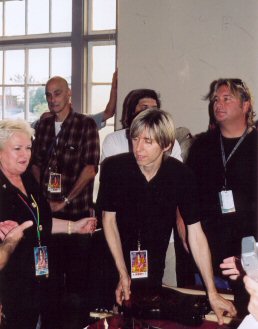 Eric Johnson
(in the media room)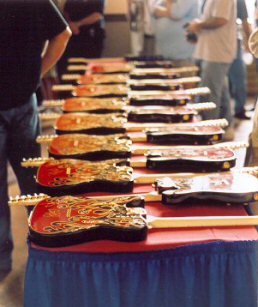 Table of Telecasters
(gifts for performers)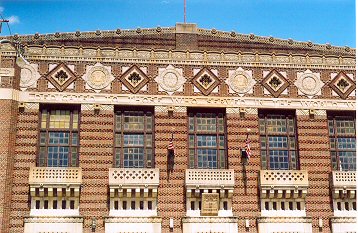 Shreveport Municipal Auditorium
(built in 1919 to commemorate World War I and home of the legendary Louisiana Hayride radio show)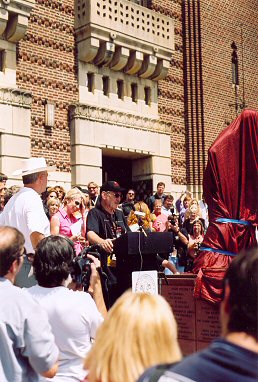 James Burton
(speaking at the unveiling of his statue)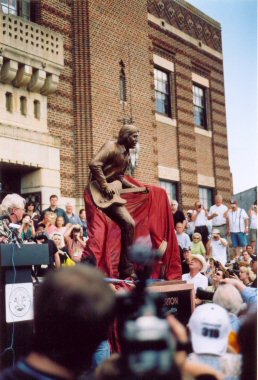 James Burton statue
(as it is being unveiled)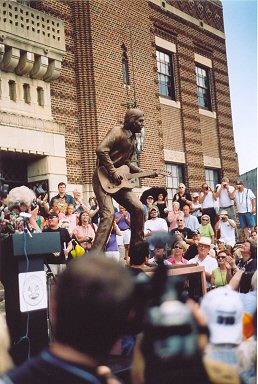 James Burton statue
(unveiled)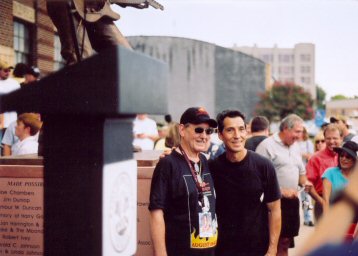 James Burton and sculptor of statue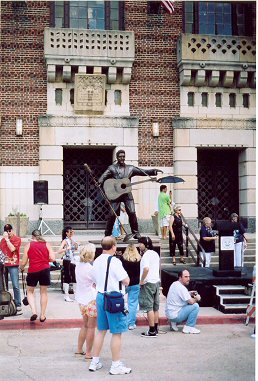 Elvis Presley statue

Related Links
jamesburtonfestival.org- official James Burton festival website.
johnybarbata.com- official website of drummer Johny Barbata.
spotlightheroes.com- official website for photographer John R. Rowlands.


Previous page || Go to next miscellaneous writings article
Return to miscellaneous writings index page