My Concert at Tucson's Puro Mexicano Film Festival
November 3, 2006
by Mark Guerrero
On November 3, 2006 there was a screening of the documentary, "Lalo Guerrero: The Original Chicano," at the beautifully refurbished Fox Theater in Tucson, Arizona. It was part of the "Puro Mexicano Film Festival. The documentary was produced by my brother, Dan Guerrero, along with his co-producer, Nancy De Los Santos. My involvement was as music consultant. Also, my song "The Ballad of Lalo Guerrero" was utilized with the end credits. The documentary had been airing on various PBS stations nationally and had previously screened in Los Angeles, but this screening was special because it was in my dad's hometown. The documentary was extremely well received by the audience. It is an extraordinary piece of work. I don't think it could have been done any better. It tells my dad's story in his own words and features luminaries such as Ry Cooder, Linda Ronstadt, Los Lobos, Edward James Olmos, Cheech Marin, Paul Rodriguez, Cesar Chavez, Dolores Huerta, Luis Valdez, and Culture Clash rhapsodizing about my dad and his music. Since the screening was in his hometown there were many people who knew my dad, as well as relatives on both sides of my family. After the screening, my brother conducted a brief question and answer session about the documentary. I came on next, as part of a four-piece acoustic group. We performed six songs that were also very well received. How the group was formed requires some background information.
On a previous trip to Tucson I had met an extraordinary musician by the name of Tim Wiedenkeller. Tim's a world-class player on banjo, mandolin, and guitar, in addition to being a great singer/songwriter. I asked him to be a part of this event, not only because of his talent, but because he had written a song that was ideal for the event. It's a song called "The New Old Pueblo," which was inspired by the very barrio in which my dad grew up, then called Barrio Libre. It's now called Barrio Viejo, which is also the title of one of my dad's greatest songs. Tim's song bemoans the changes that have occurred in the barrio through the years. Part of it has been torn down for a convention center and many of the traditions have disappeared. On July 3rd and 4th, 2006, I traveled to Tucson and had the pleasure and privilege to sing harmony, along with Mindy Ronstadt (a niece of Linda), on Tim's recording of the song, which is part of his upcoming CD, "Soul House." I sang on several other tracks as well, including another great song and favorite of mine, "Love & Peace & Happiness Will Reign," a song Tim had the honor of performing for the Dalai Lama. So I asked Tim to be a part of the event, where he would back me and perform "The New Old Pueblo." To round out the group we asked Tim's girlfriend and musical partner, Debbie Daly, to sing harmony and his friend and recording engineer, Jeff Rodenkirch, to play upright bass. I sent them a cd of the songs we were to do a couple of weeks ahead. It so happened that the night before our concert, Tim was having a concert at Tohono Chul Park in Tucson and invited me to sing with him there as well. The concert was outdoors at night under the stars, among beautiful trees and shrubs, in cool and pleasant weather. There were a couple of hundred people there, a sellout at the venue. Tim did a phenomenal set of his music, covering multiple genres including bluegrass, classical, folk, East Indian, Spanish, and more. He also played banjo, mandolin, and guitar. Debbie Daly would sing harmony and play guitar and percussion on selected songs. Bobby Ronstadt (a cousin of Linda) was doing the sound engineering and played accordion on a couple of songs. Even Tim's ten year old daughter, Anza, joined in and played an East Indian instrument called the tambura on a song. I sang harmony with Tim and Debbie on "The New Old Pueblo," "Love & Peace & Happiness Will Reign," and a couple of others. I had a great time and the show was phenomenal.
The next day we got together with Jeff, the bass player, to rehearse for the Fox Theatre show. We rehearsed a couple of hours and just had time to get ready and get down to the theater. The set we performed was the following: Two of my songs- "Mexican Moon, a song about my grandparents on both sides of the family, and the aforementioned "The Ballad of Lalo Guerrero". We then did "The New Old Pueblo," which got the great response I had expected. I then changed the pace with my dad's hilarious "Tacos for Two," a parody of "Cocktails for Two." We ended with two more of my dad's songs, "Los Chucos Suaves" and "El Chicano." "Los Chucos Suaves" is a pachuco classic my dad wrote and recorded in 1949. The song was later used in the play and movie "Zoot Suit," as well as on Ry Cooder's 2005 album, "Chavez Ravine." "El Chicano" is an upbeat corrido that expresses my dad's Chicano pride. For this song my brother Dan came out and sang lead. It was the first time my brother and I performed together. The show went very well and the response was great. Tim, Jeff, and Debbie all did a great job and Tim's guitar playing wowed the audience. After the show, we had a reception at El Centro de Las Americas. Friends and family enjoyed food and drink in the courtyard. A good time was had by all and memories of Lalo Guerrero, the original Chicano, were in the air.

Photo and Video Gallery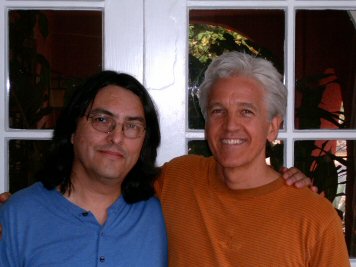 Mark Guerrero & Tim Wiedenkeller

Tim Wiedenkeller & Mark Guerrero
Three Photos Below at Tohono Chul Park Concert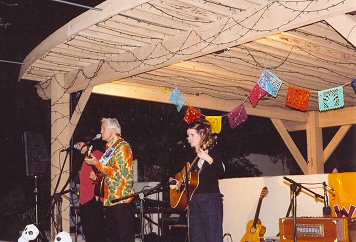 Mark Guerrero, Tim Wiedenkeller & Debbie Daly
(at Tohono Chul Park Concert)

Bobby Ronstadt, Mark Guerrero, Tim Wiedenkeller & Debbie Daly
(skeletons in front for Day of the Dead)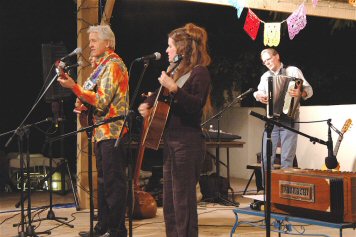 Tim Wiedenkeller, Debbie Daly, and Bobby Ronstadt
(Mark Guerrero hidden behind Tim)
(photo by Leigh Spigelman)
Photos of Fox Theater concert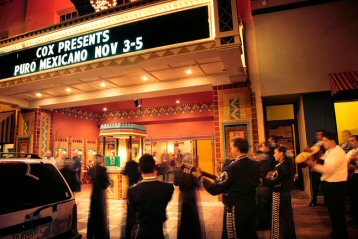 Fox Theater Marqee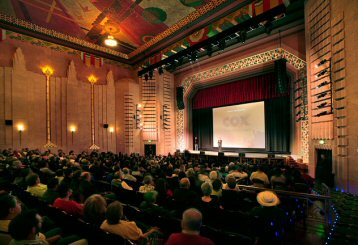 Fox Theater during Introduction of film

Jeff Rodenkirch, Tim Wiedenkeller, Mark Guerrero, and Dan Guerrero
(my brother Dan is singing the finale "El Chicano")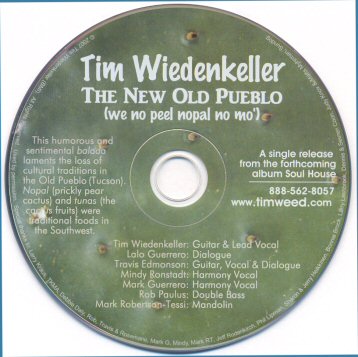 CD single of "The New Old Pueblo"
For more info visit: timweed.com

CD below includes "Love and Peace and Happiness"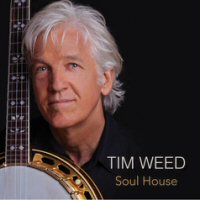 "Soul House'"
Tim Weed (2013)
Video Below
Musicians: Tim Wiedenkeller (lead vocal and guitar), Mark Guerrero (harmony vocal and guitar), Jeff Rodenkirch (upright bass), and Debbie Daly (harmony vocal and percussion)
Click once in the middle of the video screens or on the play button on the lower left.

"The New Old Pueblo"
words & music by Tim Wiedenkeller

Previous page || Go to next miscellaneous writings article
Return to miscellaneous writings index page