Concert for the Lalo Guerrero Film & Arts Festival Gala
March 23, 2007
by Mark Guerrero
On Friday, March 23, 2007, the documentary "Lalo Guerrero: The Original Chicano," produced by my brother Dan and Nancy De Los Santos, was screened at the UCR Palm Desert Graduate Center, University of California, Riverside - Palm Desert campus in Palm Desert, California. It was part of the opening night gala for the Lalo Guerrero Film and Arts Festival and premier of the film in the Coachella Valley. A concert featuring yours truly with an acoustic trio and legendary Chicano band, El Chicano, followed the screening outdoors. The festival was presented by Raices Cultura, a grassroots action organization of young educated Chicanos who want to further the cause of advancing the social, economic, and political position of Chicanos in the community. Raices had the support of U.C. Riverside, who provided the venue for the gala. Proceeds from the festival went toward scholarships for East Valley youth and the development of an East Valley youth Leadership Institute. Since my brother Dan was unable to attend because he was producing a show at the prestigious Kennedy Center in Washington D.C., I introduced the film. Before my introduction, there were speeches by the young mayor of Coachella, Eduardo Garcia and the chairperson of Raices Cultura, Victor Manuel Perez. These two young men are dedicated to helping their community and are a big part of the future of the city of Coachella. Eduardo is a graduate of U.C. Riverside and Victor, whose parents were farmworkers, went to graduate school at no less than Harvard University. After the screening of the documentary, which was thoroughly enjoyed by the audience, I did a question and answer session. Next we all went outside for some Mexican food, followed by the concert.
The concert was opened by an energetic young band called Kura, whose style has elements of ska, rap, and Latin. My trio followed. I sang the following songs for the occasion: "The Ballad of Lalo Guerrero," a song I wrote about my dad's life and music; "El Corrido de Delano," my dad's song written in the 60s about Cesar Chavez and his movement; "Los Chucos Suaves," one of my dad's pachuco songs which was featured in Luis Valdez' play and movie, "Zoot Suit"; "Pre-Columbian Dream," a song I wrote which was covered by famed trumpeter Herb Alpert; and "El Chicano," my dad's song about Chicano pride. Accompanying me were Alex Armstrong on requinto guitar and Lorenzo "Lencho" Martinez on guitarrón. I was on a nylon string guitar. So the trio was in the traditional Mexican style. All the songs were done in a way that would work with that sound. (Alex and I have worked together on and off since 1981, most often in rock and popular music situations. He also played with me in a band backing my dad on many occasions in the late 90s, as well as in my band Mark Guerrero & Radio Aztlán since 2003. Lorenzo Martinez also played in the band with me that backed my dad in the late 90s, including a historic performance in Paris, France.) Following my performance on this night with the trio, I introduced my friends, El Chicano. They performed a set which featured some of the instrumentals they've recorded such as Tito Puente's "El Cayuco," their own composition "Mas Zacate," and their first national hit, "Viva Tirado." I was pleased to sit in with them on their hit version of Van Morrison's "Brown-Eyed Girl." I shared the vocal duties with leader and bassist, Fred Sanchez. Fred formed the V.I.P.'s, who would evolve into El Chicano, in the mid-60s in East Los Angeles. My teenage 60s bands Mark & the Escorts and the Men From S.O.U.N.D. performed on the bill with the V.I.P.s on several occasions so we go way back. The members of El Chicano on this night were founding members Fred Sanchez on bass, Bobby Espinoza on organ and piano, and Rudy Regalado on timbales and percussion. The band was rounded out by Eddie Avila on drums, Ray Carreon on guitar, and Victor Baez sitting in on congas. Lead singer Jerry Salas was out of town and not available to perform on this night. El Chicano sounded great and rocked the valley. I was very pleased and honored that El Chicano came out and performed for the event, members coming from Los Angeles, Phoenix, and Las Vegas to do so. When the organizers contacted Fred Sanchez about performing, I was told that Fred asked if I was involved. When they answered in the affirmative, Fred said they were in. They waved their fee for the good cause, with only their travel and hotel expenses being covered. I will always be grateful for their generous gesture. After their performance I presented them with the first Lalo Guerrero Lifetime Achievement Award. After the show El Chicano and I posed for photos and were interviewed for a local television show. It was a very inspiring and meaningful night for all of us, including the audience.
On Saturday afternoon, March 24th, in the city of Coachella, there were screenings of other films such as "The Life and Times of Frida Kahlo" and "From Mambo to Hip Hop." There were also musical performances by Brown Boy, Quinto Sol, Son de Centro, Los Autenticos de Juan Sanchez, and Kura on the streets of Coachella. I caught Quinto Sol's performance and was impressed with their sound and energy. The East L.A. band are definitely an up and coming band to watch. Aztec and folkloric dance groups also performed that afternoon. The Lalo Guerrero Film and Arts Festival was capped off with an awards ceremony in the evening at the Coachella Valley High School Auditorium. The festival was the second one for Raices Cultural, but the first bearing the name of my late father, Lalo Guerrero. There are many people, businesses, and corporations to thank. Far too many to list all of them. However, there are a few I would like to mention. One key person I would like to acknowledge is U.C. Riverside graduate student Ernesto Rios. Ernesto worked very hard on the organization of the gala. He and I worked very hard together on securing the back line (drums, amps, keyboards, etc.) for El Chicano, as well as the lighting, P.A. system, and generator. Community business leaders such as Martin Martinez and Dave Skinner also deserve thanks for their help, as well as sponsors such as Univision, Rabobank, the City of Indio, LATV, Latino Public Broadcasting, S.I.R. Entertainment Services, and many others. Special thanks are also in order to Terry Green of U.C. Riverside and Las Casuelas Nuevas, who provided food for the gala.

Festival Flyer


Festival Gala Program


Festival Gala Program Page


Mark Guerrero Speaking at Festival Gala Screening
(photos below by Christina Rose)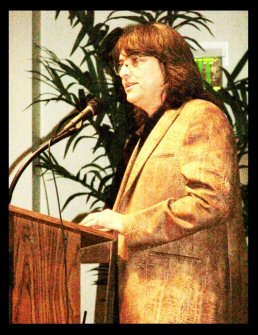 Mark Guerrero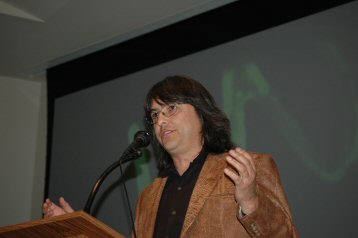 Mark Guerrero

Mark Guerrero Trio Performing
(photos below by Tone Rubio)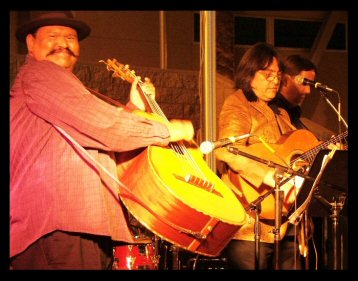 Lorenzo Martinez, Mark Guerrero, and Alex Armstrong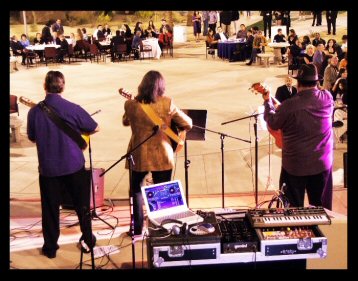 Alex Armstrong, Mark Guerrero, and Lorenzo Martinez

Mark Guerrero Performing with El Chicano
(photos below by Tone Rubio)


Mark Guerrero, Rudy Regalado, and Fred Sanchez

Mark Guerrero & Rudy Regalado

Ray Carreon, Mark Guerrero,
Rudy Regalado, and Fred Sanchez

El Chicano and Mark with Lalo Guerrero Lifetime Achievement Award
(photos below by Tone Rubio)


Bobby Espinoza, Mark Guerrero, Eddie Avila,
Rudy Regalado, and Fred Sanchez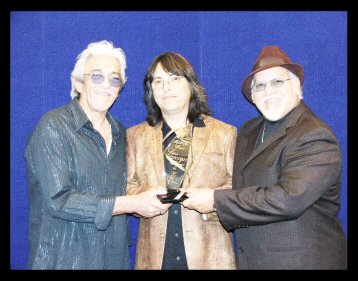 Bobby Espinoza, Mark Guerrero, and Fred Sanchez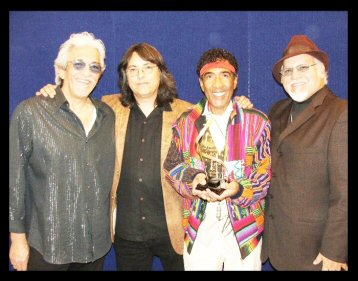 Bobby Espinoza, Mark Guerrero, Rudy Regalado, and Fred Sanchez

During Afternoon Sound Check
(photos below by Christina Rose)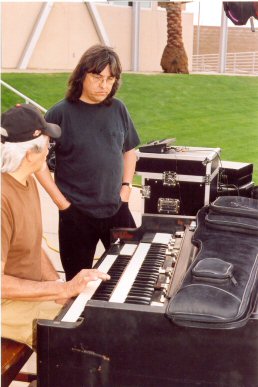 Bobby Espinoza & Mark Guerrero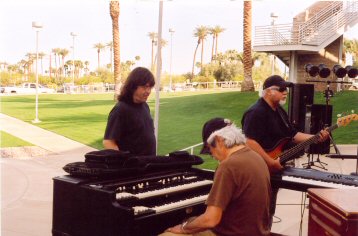 Mark Guerrero, Bobby Espinoza, and Fred Sanchez

(3 photos below by Joe Frederickson)


Lorenzo Martinez, Mark Guerrero, and Alex Armstrong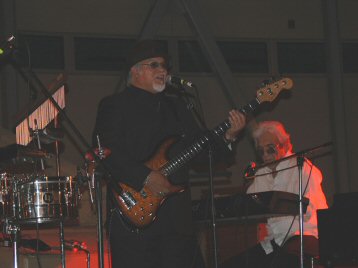 Fred Sanchez & Bobby Espinoza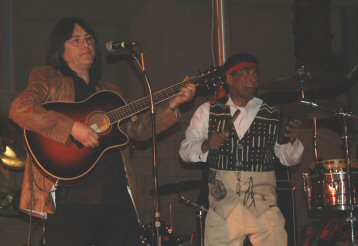 Mark Guerrero & Rudy Regalado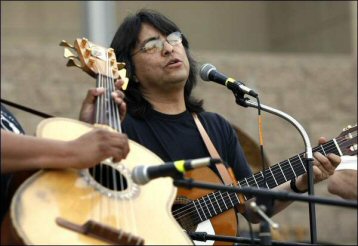 Mark Guerrero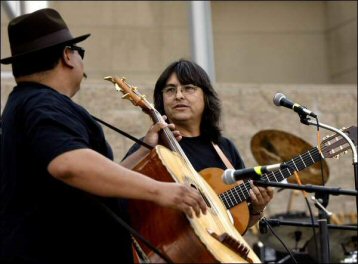 Lorenzo Martinez & Mark Guerrero

Previous page || Go to next miscellaneous writings article
Return to miscellaneous writings index page