Concert for Garfield High School: Gibson Amphitheater, October 14, 2007
by Mark Guerrero
On October 14, 2007, there was a concert at the Gibson Amphitheater in Universal City, California to benefit my alma mater, Garfield High School, whose auditorium had been burned down by an arsonist earlier in the year. Many other Chicano musicians are alumni of Garfield as well, including members of Los Lobos, El Chicano, Thee Midniters, The Blendells, Los Illegals, Little Ray Jimenez, Hirth Martinez, and many others. The lineup for the benefit concert included Los Lobos, El Chicano, Tierra, Little Joe y La Familia, War, Little Willie G., Upground, and comedian Rudy Moreno. All the artists donated their time and talents for the worthy cause of generating funds that will go toward the rebuilding of the auditorium. Fred Sanchez, leader, manager, and bassist/vocalist of El Chicano, upon learning that I was a graduate of Garfield, graciously invited me to perform with them at the event. El Chicano and I go back a long way. In the 60s, my bands Mark & the Escorts and The Men From S.O.U.N.D. were often on the bill with the V.I.P.s, who were later to become El Chicano. In 1972, I performed on the bill with El Chicano with my band Mark Guerrero & The Mudd Brothers at the now historic Feria de La Raza concert at Cal State L.A., which also included Tierra, Elijah, and Carmen Moreno. In recent years, my band Mark Guerrero & Radio Aztlán performed on the bill with El Chicano at the Latin Oldies Festival in San Bernardino in November of 2003 and the John Anson Ford Amphitheater in October of 2004. I also interviewed Fred Sanchez and Jerry Salas (lead singer for El Chicano) for my radio show, "Chicano Music Chronicles," for an edition of the show featuring the music of El Chicano in 2006. In March of 2007, El Chicano performed at a screening of a documentary on my late father, Lalo Guerrero, called "Lalo Guerrero: The Original Chicano" at the University of California at Riverside, Palm Desert Campus. The screening was part of a film festival named in my dad's honor, funds from which were to benefit scholarships for east Coachella Valley Chicano youth and the development of an East Valley youth Leadership Institute. When the organizers contacted Fred Sanchez about performing, I was told that Fred asked if I was involved. When they answered in the affirmative, Fred said they were in. Members of El Chicano traveled into the Coachella Valley from Los Angeles, Phoenix, and Las Vegas to participate. They waved their fee for the good cause, with only their travel and hotel expenses being covered. I will always be grateful for their generous gesture. At the event, I had the great pleasure to sit in with them, playing guitar and singing the co-lead vocal with Fred, on their hit version of "Brown-Eyed Girl." As one can see from the background information above that El Chicano and I have a special and meaningful association developing and I can tell you there's more things brewing in the near future.
Getting back to the Gibson Amphitheater and the benefit for the Garfield High School Auditorium, I knew it was going to be tricky to get to the event on time because I was flying in from Seattle that day, having just attended the opening of the "American Sabor: Latinos In U.S. Popular Music" exhibit at the Experience Music Project Museum, for which I was a consultant and on the advisory board. El Chicano was scheduled to perform second at 6 p.m. with my plane arriving at Ontario airport around 3 p.m., which barely gave me enough time to get my luggage, get to my car, and drive the hour or so to Universal City. Upon arrival, I just had enough time to park, change clothes, and go over the harmonies with the band backstage in our dressing room. I had only been at the venue for about 45 minutes when I found myself on stage with the band in front of about 6,000 enthusiastic people in the audience! The lineup for El Chicano for the event included founding members Fred Sanchez (bass) and Bobby Espinoza (organ); Rudy Regalado (timbales), who joined El Chicano on their third album, "Celebration"; lead vocalist/guitarist Jerry Salas, a member since the fourth album, "El Chicano," on which he sang the lead vocal on their hit record "Tell Her She's Lovely"; Ray Carreon (guitar); Sal Rodriguez (drums), who was a member of Tierra in the late 80s before becoming drummer for War; Marcos Reyes on congas, also currently a member of War; and Bertha Oropeza, Dolores DeAngelo, and yours truly on background vocals. Bertha is a great vocalist who sings with the popular East L.A. band, Chico. El Chicano's set began with an up tempo instrumental called "Juntos," from their 1972 "Celebration" album, which gave all the players a chance to show their stuff and got the crowd going. This was followed by El Chicano's break out instrumental hit, "Viva Tirado," which got a tremendous ovation after the audience recognized the first few notes. After "Viva Tirado," Bertha, Dolores and I came out to our vocal mikes on the right side of the stage to sing background vocals on "Brown-Eyed Girl," on which Fred and Jerry shared the lead vocal. Next Bertha was featured on lead vocal on El Chicano's classic version of "Sabor a Mi," which received a thundering response. She sang it beautifully. At this point, Fred Sanchez introduced the members of the band. He introduced me by saying (I'm paraphrasing here), "Mark Guerrero's a singer/songwriter, writer, historian, man this guy does everything. He's also the son of Lalo Guerrero and an alumni of Garfield High School." Much cheering ensued, I'm sure helped along by the mention of Garfield High School, but I appreciated Fred's kind and thoughtful introduction. The closing song of the set was El Chicano's 1974 hit "Tell Her She's Lovely," on which Jerry Salas sang lead with Bertha, Dolores, and I on harmony vocals. Bobby Espinoza also sang harmony with us on both "Brown-Eyed Girl" and "Tell Her She's Lovely" so we had plenty of voices to fill out the harmony parts in a strong and effective way. Watching Jerry Salas from the stage gave me a unique perspective to see that he's a dynamic performer as well as an excellent singer, making him a excellent front man for the band. El Chicano sounded great from the beginning to the end of the set and we got a standing ovation after our performance.
I didn't get a chance to hear the other performances because I was backstage hanging out and talking with many of the musicians from the other bands, most of whom I've known since the 60s and 70s. It was a great reunion backstage. I spoke with Steve and Rudy Salas and Aaron Ballesteros of Tierra; Sal Rodriguez of War; David Hidalgo, Louie Perez, and Conrad Lozano of Los Lobos; Little Willie G.; Larry Rendon of Thee Midniters, and many others. There was a very good feeling and camaraderie backstage. We've all been part of the same musical community for decades and were all there to support a worthy cause. There was a television monitor in the lounge backstage so one could see and hear the bands who were on stage at the time. I did get a chance however, to go out to the audience to see the Los Lobos set, which closed the show. They sounded great. They did of few of their own songs, including one of my favorites from their latest album, "Chucos Cumbia." Cesar Rosas then introduced Little Willie G., who came out and sang several songs with Los Lobos backing him, including some classics he recorded with the Midniters in the 60s, such as "That's All." Willie was in great voice and, as always, an excellent performer. I made my way backstage in time for the the last song which was a medley of "La Bamba" and "Good Lovin'". Many of the musicians from all the bands went on stage to join Los Lobos' finale. I wound up center stage sharing a microphone singing backgrounds with Rudy Salas of Tierra and Bertha Oropeza. Musicians were singing and dancing around on stage, some getting on various percussion instruments, while the audience stood and clapped along with the lights in the amphitheater turned on. There was a tremendous energy and good feeling in the auditorium. After the song there were handshakes and hugs going around on stage and I think everyone was feeling pretty high about the whole experience.
After the show, a lot of us hung out some more backstage in the outdoor area and lounge. Some of the people from the audience were also backstage and I talked to a few with whom I went to Garfield in the 60s. One guy remembered seeing me perform with my band The Men From S.O.U.N.D. in the Garfield auditorium in 1966! As a matter of fact, that assembly in the auditorium in 1966 also featured another popular East L.A. band, The Exotics, and a band called Euphoria with Conrad Lozano, Los Lobos' future member, on bass. As I said, a lot of us go way back. The Garfield High School auditorium was a classic, probably built in the 40s or 50s, with a big balcony and a good sized stage with a system of curtains. My best memories of the auditorium were the 1966 assembly, there were actually two assemblies that day to accommodate the entire student body, and my senior class play, "Batman." I played guitar with the orchestra in the pit and performed one song on stage with Roy Marquez of Thee Midniters. We played guitars and sang harmony together on The Beatles' version of the Buck Owens song "Act Naturally." I, like anyone else who went to Garfield and knew the auditorium, were particularly sad to hear about it burning down. It was very personal. Many of the artists who performed for the benefit, did not attend Garfield, but had great compassion for what happened and were very happy to be able to contribute their talents for the cause. It was a great night for all of us, both musically and for the good feelings that were pervasive with the performers and the audience. It was a magical night that I'm sure we'll all remember.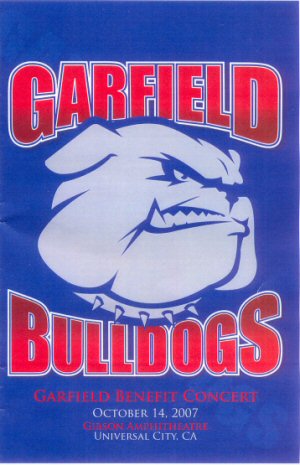 Garfield Benefit Concert program cover
Garfield Benefit Lineup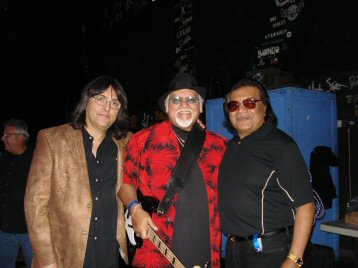 Mark Guerrero, Fred Sanchez, and Aaron Ballesteros

(backstage at the Gibson)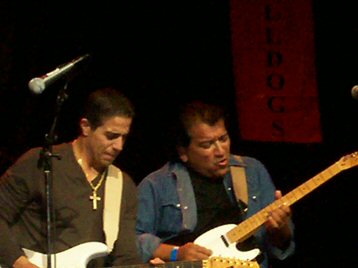 Ray Carreon & Jerry Salas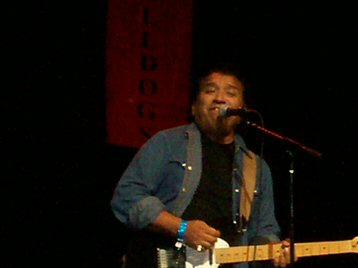 Jerry Salas

Previous page || Go to next miscellaneous writings article
Return to miscellaneous writings index page