Documentary Review: "Chicano Rock: The Sounds of East Los Angeles"
by Mark Guerrero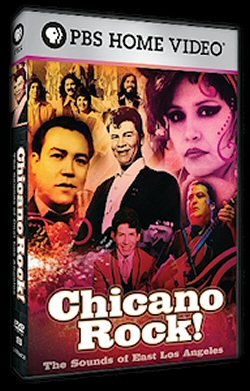 Eight years in the making, the documentary "Chicano Rock: The Sounds of East Los Angeles" was broadcast on PBS stations across the U.S. starting in December of 2008. It was produced, written, directed, and edited by Jon Wilkman. The production staff included Tom Waldman and David Reyes, co-authors of the book "Land of a Thousand Dances"; Max Uballez, East L.A. music pioneer; and Ruben Molina, author of the book "Chicano Soul."
The one hour documentary about the rich history of Chicano rock, most of which has emanated from East L.A., rightfully begins with my dad, Lalo Guerrero. Even though Lalo was born in Tucson, Arizona, he came to Los Angeles at around age 22 in 1938. He soon thereafter married my mom Margaret, who was also from Tucson, and brought her to Los Angeles. From about 1946, they lived in East Los Angeles and it was from there that he achieved his musical success, starting with his recordings on Imperial Records in the late 40s. The documentary then focuses on Don Tosti (Edumundo Tostado), a talented composer/arranger/musician from El Paso, Texas, whose music was primarily Latin and jazz. However, he's probably best remembered for his band the Pachuco Boogie Boys. Don Tosti also moved to East Los Angeles in his late teens and achieved his own recording success there. The documentary continues with the life and music of Ritchie Valens (Valenzuela) who came out of the San Fernando Valley. Spotlighted next is the "Eastside Sound" of East Los Angeles in the 1960s. Featured in this segment are The Premiers, Cannibal & the Headhunters, and Thee Midniters. The late 60s and early 70s mainly feature El Chicano and Tierra. That's the era where Chicano bands from East L.A. became more Latino in their music and choice of band names. They were also more politicized, mirroring what was going on in the Chicano movement at large.
I appear in the documentary in a couple of interview clips and one performance segment. The latter appearance is titled "La Raza Rocks." The late 70s, early 80s segment features mainly The Brat, but mentions bands such as Los Illegals and the Odd Squad. More recent bands touched on are Quetzal and Ozomatli. All the stories above demonstrate the evolution of Chicano Rock throughout the decades culturally, stylistically, and musically. "Chicano Rock: The Sounds of East Los Angeles" is very well done and gives a thumbnail sketch of the story of the music that has emerged from East L.A. Jon Wilkman wove the story together using interview and music clips, vintage footage, and very clever and effective special effects and graphics. The people interviewed were the artists themselves as well as the authors previously mentioned above, David Reyes, Tom Waldman, and Ruben Molina. Interview clips featuring "Barrio Rhythms" author Steven Loza, TV personality Tony Valdez, legendary disc jockey Casey Kasem, and record company owners Bob Keane and Art Laboe are also included. So the story is narrated by the people interviewed who witnessed or were a part of the story.
The story of Chicano Rock from East Los Angeles is very complex and involves many more great and important artists and participants who were not featured or mentioned in the documentary. Much of this had to do with major time constraints. Because of these, a lot of interview footage wound up on the cutting room floor. Many people who richly deserved to be in the documentary were not included. Many hours of footage was collected and shot that could not be used. From what I've heard there were two hours edited and ready to go, maybe it was ninety minutes. However, PBS only allowed for a one hour documentary to be aired. A lot of things had to be cut out for the final product. In some cases, some musicians were invited to be interviewed for the documentary who declined for various reasons. Some examples of people left out of the documentary either by editorial choice or by declining are Chan Romero, who came to East L.A. from Montana to record his legendary song "The Hippy Hippy Shake" which was later performed by The Beatles; The Blendells, who scored a national hit in 1965 with "La La La La La" and toured with the likes of the Dave Clark Five; The Romancers, the pioneering East L.A. band led by Max Uballez, who made some classic "Eastside Sound" recordings in the early 60s including the classic "Do the Slauson" album; Little Ray Jimenez, a great r&b singer/performer, Mario Panagua, leader of The Jaguars and behind the scenes participant as a producer/arranger in the 60s and 70s; Art Brambila, a controversial but important manager who helped sign Tierra, Yaqui, and yours truly to major record deals in the early 70s; and if I may say, my pioneering 70s rock/country rock band who recorded for A&M Records, Tango.
I'm pleased and grateful that I'm in the documentary, but disappointed that there's no mention of any of my own accomplishments, i.e. my first band Mark & the Escorts; my having done a record produced by one of the most legendary producers of all time, Lou Adler; my aforementioned 70s band Tango; my songs having been recorded by major artists such as Herb Alpert, Trini Lopez, and others; the work I did to advance Chicano music with my website and radio shows; or my groundbreaking 1972 song and recording "I'm Brown," which is currently housed at the Grammy Museum in an exhibit called "Songs of Conscience, Sounds of Freedom." I think "I'm Brown" was a perfect example of a record that came out of the era when Chicano bands from East L.A. began to become more cultural and political. However, my disappointment was eased a little by the fact that the song chosen to represent this idea in the documentary was "Barrio Suite" by Tierra. That's also a great song and recording that deserved to be featured. It's probably the only other song I could have lived with to be highlighted in the documentary in that context. I'm not saying these things to be immodest, but documentaries such as this and books that have been published on the subject of Chicano music and the "Eastside Sound" become its history, now and for future generations. Since my own legacy is important to me, it's personally disappointing that current and future viewers of the documentary would see me in it and not learn about anything that I did. One other thing I'd like to clarify that was in the documentary regarding my dad's song "Elvis Perez." It's described in the documentary as "Hound Dog" in Spanish. A more accurate description of the song would be "an original song with parody fragments of three Elvis Presley songs, "Heartbreak Hotel," "Hound Dog," and "Don't Be Cruel."
I've heard some complain that the early 1970s period was not given enough time and attention in the documentary and that there might have been some bands, particularly from the punk era, that received too much time and attention. As I said earlier, I think Jon Wilkman did a great job of telling the basic story with the time limitations with which he had to work. Wilkman also did a good job of including female artists, who richly deserved to be featured. East L.A. Chicano rock history includes many, such as The Sisters, Ersi Arvizu with El Chicano and as a solo artist, Geri Gonzalez, Bertha Oropeza, Irma Rangel, and Teresa Covarrubias to name a few. There was not time to include them all, but he managed to spotlight some female artists for some gender balance. Despite any personal disappointments or criticisms that have been made, "Chicano Rock: The Sounds of East Los Angeles" is another important piece of the puzzle that advances and perpetuates the story of Chicano rock and the "Eastside Sound" that richly deserves to be told and remembered. Thank you Jon for all your time and hard work. You've done a great service to Chicano rock and culture. The DVD of "Chicano Rock: The Sounds of East Los Angeles" is available in stores and on line on many sites including the pbs store and at amazon.com at the link below. I highly recommend you add it to your video library.


Previous page || Go to next miscellaneous writings page
Return to miscellaneous writings index page