Trini Lopez Presents Latin Music Legends: November 11, 2008
by Mark Guerrero
On Tuesday, November 11, 2008 there was a taping of a PBS special called "Trini Lopez Presents Latin Music Legends," which took place at the beautifully refurbished Orpheum Theater in downtown Los Angeles. I was hired as a talent coordinator for the show and paid tribute to my late father, Lalo Guerrero, by performing his late 1940s pachuco classic, "Los Chucos Suaves." The producers gave me a list of artists they wanted me to pursue and I acted as a consultant on other possible acts for the show as well as musical and cultural issues. I first contacted Rudy Salas of Tierra, Fred Sanchez of El Chicano, and Little Willie G. & Thee Midniters, all bands with roots in the East L.A. music scene of which I was also a part in the 1960s. These three bands all signed on for the show. Trini Lopez had already been signed on as the host and a performer on the show before I was involved. I'd known Trini for many years. We both live in the Palm Springs area and in 2004, he recorded one of my songs, "Oh Maria." There are many artists I tried to secure, but they either were not available or declined. These included Chris Montez, Malo, Rosie Hamlin of Rosie & the Originals, Sam the Sham, Question Mark of ? & the Mysterions, Los Lonely Boys, and Los Lobos. In the case of Los Lobos, they ultimately participated by providing a video to be inserted into the show. This was also the case for two artists the producers pursued, Jose Jose and Julio Iglesias. The last band to be added to the "live" show was the Gregg Rolie Band. Rolie was the original organist/vocalist for Santana, which gave him great credentials as a "Latin Music Legend" even though he's not Latino.
The taping of the show was phenomenal. It was a first class production with seven high definition cameras, a great sound system and crew, and superb lighting. Every band and individual singer and musician came through with excellent performances. We had approximately 1200 enthusiastic people in the audience, which gave the show and performers a lot of energy. Little Willie G. & Thee Midniters opened the show with their original songs "Love Special Delivery" and "Dreaming Casually," and closed with their hit cover of "Land of a Thousand Dances." Thee Midniters' lineup included Little Willie G. on lead vocals, Jimmy Espinoza on bass, Bobby Robles on guitar, Jacob Garcia on drums, Larry Rendon on sax, Bobby Loya on trumpet, Bobby Navarette on sax, and Charles Williams on keyboards. El Chicano followed with their hit cover of "Brown Eyed Girl," their first hit "Viva Tirado," and their 1973 hit "Tell Her She's Lovely." El Chicano brought in their original drummer, John DeLuna, and original guitarist Mickey Lespron for the show. They also had original leader/bassist/vocalist/manager Fred Sanchez, organist Bobby Espinoza, percussionist Rudy Regalado, and vocalist Jerry Salas, who was with the band from 1973 to 1978 and sang lead on their aforementioned hit record, "Tell Her She's Lovely." Their current guitarist, Ray Carreon, also performed with the band as well as Don Tai on congas.
El Chicano was followed by Tierra, who played their 1981 hit "Memories," an up tempo song with a kick ass salsa ending section, and their biggest hit, 1980s classic ballad, "Together." Tierra's line up included original vocalist Steve Salas, vocalist Billy Mondragon, Rudy Salas on lead guitar and vocals, Aaron Ballesteros on drums, Steve Falomir on bass, Joey Navarro on keyboard, Jeff Lewis on trumpet, Victor Cisneros on sax, and Dale Villavicencio on congas and timbales. Rudy Salas introduced the tribute to my father, Lalo Guerrero, which got a tremendous crowd reaction. Rudy then introduced me. I came out and performed my dad's classic pachuco song, the aforementioned "Los Chucos Suaves" backed by Tierra. They did a tremendous job on the song, which featured great solos by Jeff Lewis on trumpet and Joey Navarro on piano. This performance was accomplished with one rehearsal in which we went over the song three times and the dress rehearsal the day before the show in which we did the song once. Our performance on the show was the fifth time we'd done it and everyone nailed it. I was very pleased with the reaction to it also. All three East L.A. bands Thee Midniters, El Chicano, and Tierra played great and got great responses. It was a great day for East L.A. and "Eastside Sound" bands.
Trini Lopez followed with a large band consisting of drums, bass, guitar, percussion, keyboard, three horns, and three female background singers. He opened with his hit "Lemon Tree" followed by the Mexican classic "Cielito Lindo." Then he played his mega hit "If I Had a Hammer" followed by "America" from the musical "West Side Story." The finale was his hit version of "La Bamba" on which many of the vocalists came out to join him including Little Willie G., Jerry Salas, Tierra vocalist Billy Mondragon, Rudy Salas, bassist Jimmy Espinoza of Thee Midniters, and yours truly. I sang a verse in the finale, as did Little Willie G. and Jerry Salas. Although this finale will undoubtedly be shown at the end of the eventual television broadcast, it wasn't the last thing taped on this night. The Gregg Rolie Band came on last and were phenomenal. They played a short set that included Santana classics "Evil Ways," "Black Magic Woman," and "Oye Como Va." Santana alumnus Alphonso Johnson was on bass and on timbales was Adrian Arias, the son of the original Santana timbalero, Chepito Arias. The band was great and people responded, some dancing in the aisles. What went on backstage before, during, and after the show was also a lot of fun. The camaraderie between musicians is always a blast, particularly when so many of us go back so far. It was one of the greatest experiences I've had being a part of a show. Many of us stayed at the nearby Biltmore Hotel, where the celebration continued in the lounge until it closed at 2 a.m. I would like to give special thanks to Janie Hughes, a longtime friend and also a talent coordinator on this project. She's a supporter of Chicano music and the "Eastside Sound" and was instrumental in suggesting including "Eastside Sound" artists when the project was first being planned.
The final cut of the show, which had to be reduced to under an hour, included "Memories" by Tierra, "Los Chucos Suaves" (sung by yours truly and backed by Tierra), "Tell Her She's Lovely" by El Chicano, "Land of a Thousand Dances" by Little Willie G. & the Midniters, "Oye Como Va" and "Evil Ways" by the Greg Rolie Band, "To All the Girls I've Loved Before" by Julio Iglesias, and "If I Had a Hammer" and the "La Bamba" finale by Trini Lopez. The show will air on PBS stations nationally starting in August of 2009 and will be available on CD and DVD. The first airing was on KVCR in San Bernardino, California on August 14, 2009. The DVD also contains bonus material which includes "Together" by Tierra, "Viva Tirado" by El Chicano, "Bamboleo" by Julio Iglesias, "Black Magic Woman" by Greg Rolie, "Kiko and the Lavender Moon" and "Mexico Americano" by Los Lobos, "making Ends Meet" by Thee Midniters with Little Willie G, and "America" and "Cielito Lindo" by Trini Lopez.


DVD Cover, Back, and Label below

Latin Music Legends Photo Gallery
(Photos below by Vicente Mercado)
(The photos in this gallery are of Mark's performance of "Los Chucos Suaves" backed by Tierra and the "La Bamba" finale, which featured many of the performers on the bill. We didn't receive photos of the performances of all the bands and singers on the show.)

"Los Chucos Suaves"

Mark Guerrero with Tierra
(left to right- Steve Lewis, Victor Cisneros, Dale Villavicencio, Aaron Ballesteros {drums not visible}, Mark Guerrero, Rudy Salas, Steve Falomir, and Joey Navarro)

Mark Guerrero & Aaron Ballesteros

Mark, Rudy Salas, and Steve Falomir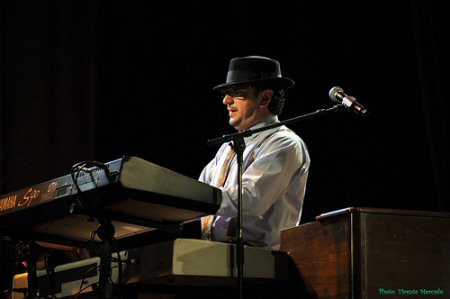 Joey Navarro

(Photos below by Vicente Mercado)
"La Bamba" Finale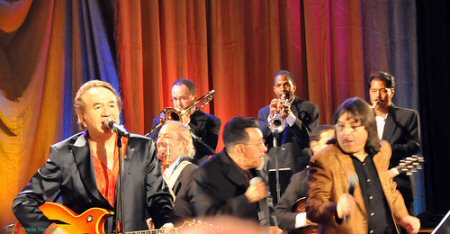 Trini Lopez, Little Willie G, and Mark Guerrero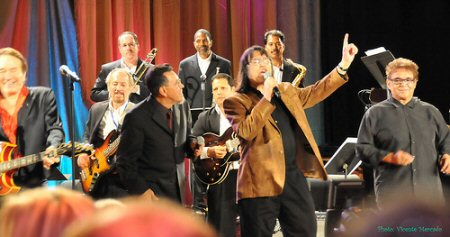 Trini Lopez, Little Willie G, Mark Guerrero, and Jimmy Espinoza

Rudy Salas, Billy Mondragon, and Jerry Salas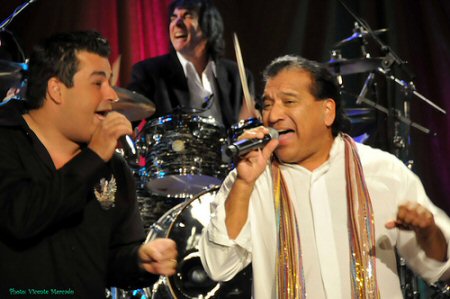 Billy Mondragon & Jerry Salas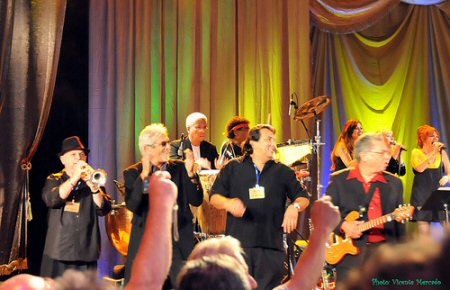 Bobby Espinoza, John DeLuna, and Mickey Lespron

Dale Villavicencio, Victor Barriento, and Rudy Regalado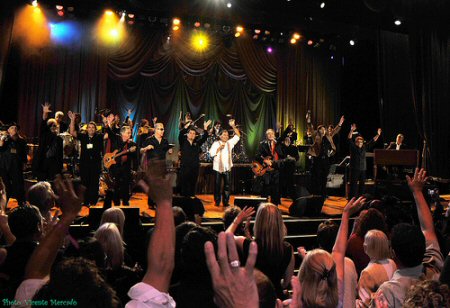 End of Finale

Backstage
(Photos below by Paul Ruiz)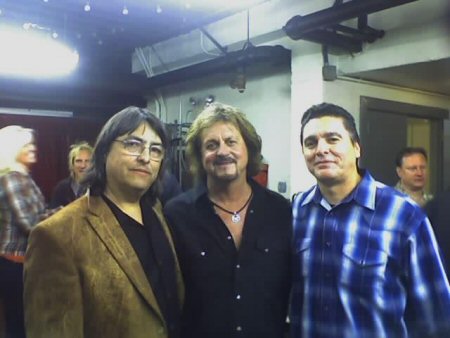 Mark Guerrero, Gregg Rolie, and Manuel Valdez
(Manuel was a founding member of East L.A. punk rockers, Los Illegals)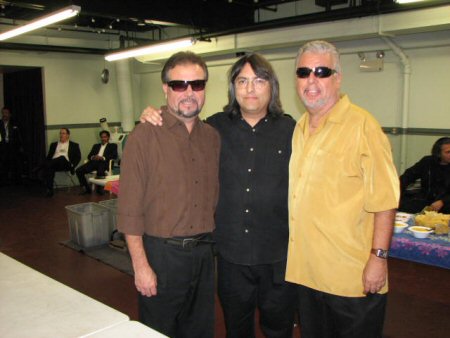 Steve Salas, Mark Guerrero, and Rudy Salas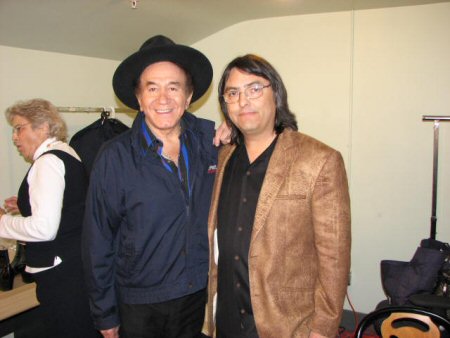 Trini Lopez & Mark

Fred Sanchez, Trini Lopez, and Mickey Lespron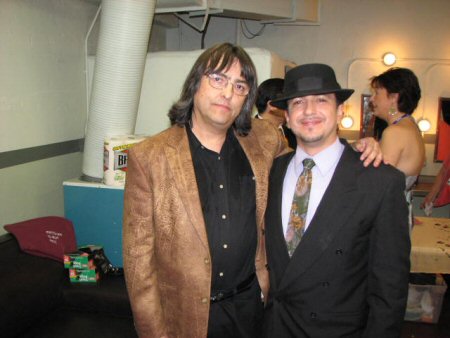 Mark & Joey Navarro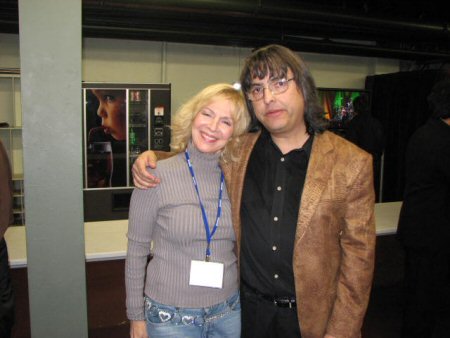 Janie Hughes & Mark

Trini Lopez & Dale Villavicencio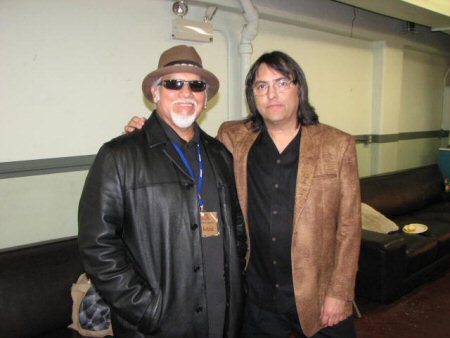 Fred Sanchez & Mark

Click here for video gallery


Previous page || Go to next miscellaneous writings page
Return to miscellaneous writings index page