Art Brambila: Brown Bag Productions & the Mean Salsa Machine
by Mark Guerrero
Art Brambila was quite busy and productive in the 1970s. In that decade he created a music production company called Brown Bag Productions, through which he was able to help secure major record deals for Chicano rock artists Tierra, Yaqui, and yours truly, Mark Guerrero. He created a television show, "The Mean Salsa Machine," a Latino dance show that during its run challenged "American Bandstand" and "Soul Train" in the Los Angeles ratings. He worked for Motown Records, ABC Television, and Universal Pictures. As if all this wasn't enough, he also produced an album dedicated to Cesar Chavez and the UFW, with the proceeds going to the organization, called "Si Se Puede."
Art Brambila grew up on Clover St. in Lincoln Heights, which is a district in East Los Angeles. As a teenager he was part of the Clover Street gang and was kicked out of three schools. He didn't steal or do drugs, he mainly participated in gang fights. Art and his homies wore khaki pants, flannel shirts, and walked the walk and talked the talk of the pachuco culture of the late 50s and early 60s. Brambila believes if he hadn't married his sweetheart Susie and moved out of the neighborhood, he might not have survived. He lived near the L.A. River in the shadow of the Eastside Brewing Company and across the street from his sister Margaret, whose sons happened to be Steve and Rudy Salas, later vocalists for The Jaguars in the 60s and Tierra in the 70s and beyond. Art played guitar and sang and on warm summer nights would be on his porch playing and singing with his friends. Steve and Rudy, pre-teens at the time, would watch and listen from their bedroom window.
Art went briefly to East L.A. College and Cal State L.A. before becoming a printer. When he was only 26 years old, Art's experience as a printer helped get him a job at Capitol Records in the marketing department, where he was responsible for purchasing the printing for album covers, inserts, and the like. He chose Capitol Records because his ultimate goal was to get into the music business. Brambila knew there was a treasure trove of unrecognized and untapped talent in the Chicano community, particularly in East Los Angeles. While working in the famed Capitol Tower in Hollywood, Art became friendly with producers and executives, who would sometimes invite him to recording sessions. In this way, he began to learn the workings of the music business. Art had noticed that Capitol scouts and executives would travel all over the country to hear bands, but wouldn't take the short twelve mile trip to East Los Angeles to hear the talent available there. When Art became a scout, he convinced Capitol to give him a chance to record some East L.A. musical artists. They gave him 100 hours of studio time to record the bands he found. Capitol had the right of first refusal on signing any of the artists.
Meanwhile, I was introduced to Art Brambila by a friend, Anthony Baray, the leader of a very popular East L.A. band called The Emeralds. I already had a demo and was looking for a record deal. Art took my demo around to major labels and got some interest from several, including Lou Adler's Ode Records and Warner Brothers Records. Art and I decided to go with Lou Adler, who was a legendary producer having produced hits for the Mamas and the Papas and Carole King. We were also interested in Lou because Art had read an article in the L.A. Times that said that Adler had grown up in the Boyle Heights district of East Los Angeles. I recorded a single with Lou Adler consisting of two of my original songs, "Lila, Love Me Tonight" and "Dare I Touch You, Marylou?" I had the privilege and opportunity to record with the most successful rhythm section in L.A. at the time, Hal Blaine on drums and Joe Osborne on bass, as well as a 20-piece string section and the Blossoms on background vocals. Lou Adler produced the record himself and released it in late 1971. At the time Adler was extremely busy with Carole King's career, who at the time had the number one album in the country, "Tapestry." Art and I got lost in the shuffle and moved on to record a couple more of my songs using the Capitol studio time. I hired my former drummer and bass player Ernie Hernandez and Richard Rosas to back me on the new session. At this time they were playing with two musicians I'd known previously, John Valenzuela and Steve Verdugo. I also invited Anthony Baray to come and play Hammond organ. In March of 1972 we went into Independent Studio in Studio City, California and recorded "Rock & Roll Queen" and "Lonely." Brambila presented my two songs, along with recordings he'd done with Tierra, Yaqui, and others to Capitol and they elected to release my recordings as a 45 rpm single.
Art was now free to shop his other artists with different record labels. Lou Adler had told Art that Russ Regan at 20th Century Records would be a good place to shop his other artists. Art did so which resulted in Tierra being signed by 20th Century. He then shopped Yaqui around and found a deal with Hugh Hefner's new Playboy Records. So now Art Brambila had three of his artists with major labels, quite an accomplishment. Brambila's dream of creating a brown Motown now seemed a realistic possibility. Both Tierra and Yaqui recorded great albums. They were young, eager, talented, and full of energy to do just that. Meanwhile, I recorded a second single for Capitol, two more of my songs "I'm Brown" and "Livin' Off the Land." It amazes me, particularly in hindsight, that all three artists wrote and recorded significant, political anthems about being Chicano that live on to this day. My "I'm Brown" has been enshrined in the Grammy Museum, along with the original lyric manuscript in 2009 in an exhibit called "Songs of Conscience," Sounds of Freedom" and continues to be what I consider my best and most important song and recording. Tierra created "Barrio Suite," a song that takes you through various musical styles and genres while telling the story of life in the barrio. I believe it's Tierra's greatest record and song to this day as well. One of Yaqui's lead singers, George Ochoa, wrote "It's Time For a Change (Es Tiempo Para Un Cambio)," which was used on you tube to promote Obama during his 2008 presidential campaign and was re-recorded by Tierra in 2010. "It's Time For a Change" was also included on a compilation CD in the late 90s called "Raza Rock," which was released by a subsidiary of Rhino Records.
After my two Capitol singles in 1972, in 1973 I moved on to A&M Records where I finished an album. A&M also bought the tracks I had done with Capitol, including "I'm Brown" and "Rock & Roll Queen," which were included on the record, along with four other former Capitol tracks and four new ones recorded at A&M Studios in Hollywood. A&M decided they wanted a band concept for me so the band and album were called "Tango." By this time, Art Brambila and I had a falling out over business and creative issues.
On September 17, 1972, prior to my split with Art and moving over to A&M Records, Brambila promoted a concert called "Feria de La Raza," which took place on September 17, 1972 at the Cal State L.A. football stadium. The lineup included El Chicano, who was riding the wave of their national hit record, "Viva Tirado," Tierra, Mark Guerrero with the Mudd Brothers (Pre-Tango), Elijah, and Carmen Moreno. Many consider this to be the first Chicano rock concert. There had been many other Chicano rock shows before, but not outdoors with festival seating. Another difference is virtually all the artists were playing original material, unlike the mostly cover songs Chicano bands played in the 50s and 60s. Listening back to all three albums today, they all still sound powerful and relevant. We were all playing, singing, and writing our hearts out and our asses off. What we all created was great, but the record industry and maybe America was not ready for what we were creating. Looking at the music business today, in 40 years not much has changed in regards to Chicanos in the industry. Back in the early 70s, we were pioneering and blazing the trail for Los Lobos and Los Lonely Boys who came later. We were definitely ahead of our time.
Art Brambila went on to produce a second album with Tierra called "Stranded," which was released on Salsol Records out of New York. Art had a great lawyer at the time who made deals so that Art would own the masters after seven years. Because of this deal, Brambila owns Tierra's first two albums as well as Yaqui's one and only album. In the mid-70s, Art helped Carmen Moreno get a deal with Capitol Records. She recorded a single called "Have I Told You Lately that I Love You," (a different song than the Van Morrison song of the same title). Carmen has a voice that rivals that of just about any female artist one can think of.
In the mid-70s, Art took a job with the ABC television network. He was assigned as a unit manager to Rona Barrett's morning show. He would travel locally with Rona to do interviews with the stars. Next he got back in the music business, becoming Director of Motown Latino. In this capacity, Art signed Jose Feliciano, Pedro Mantero, and Isela Sotelo. Brambila then took a job with Universal Pictures, where he started a division to publicize first run movies to minority audiences, particularly Latino. He worked for Universal from 1979 through 1986, during which time he also innovated electronic and Spanish language press kits.
In 1976 Art was watching "Soul Train" on television when it dawned on him that there was no show like that for Latino-Americans. He took a yellow legal pad and and created a format for such a show. Art wrote a proposal and took it to everyone. Everyone turned him down. Looking for a sponsor, he took it to Coca Cola where they liked the idea. Despite them liking the idea, nothing happened. Brambila decided to jump the gun and go directly to Capitol Records. He got a meeting with Don Zimmerman, whom he had known while working there. Art told Zimmerman that he was going to do a television show and needed a theme song to open and close the show. Art said he needed a single for the show that was to be called "The Mean Salsa Machine." It was a bluff because Art only had the concept and no deal at the time for the show. Zimmerman asked Art who the artist was which caught him by surprise. He didn't think he get this far so fast. Off the top of his head he said "Johnny Martinez." Johnny Martinez was a well-known and respected Latin band leader in Los Angeles. Art had never met him let alone have him lined up to record. Don Zimmerman immediately made a call and got Art $8,000 to record the single. After the meeting, Art contacted Johnny Martinez and set up a lunch meeting across the street from the legendary Capitol Records tower for effect. He asked Johnny if he would be interested in recording for Capitol Records. Martinez replied enthusiastically in the affirmative. Art said he'd see what he could do. Of course the session was set up and Johnny Martinez recorded "I Like The Way You Do It."
Now Art had the music, but no show. As fate would have it, when he got home that day the phone was ringing. It was Danny Villanueva, former place kicker for the L.A. Rams and president of KMEX-TV. Art had met with him a year before about his idea for a television show and had been turned down because KMEX was a Spanish language station. Art's show was to be an English speaking show with some Spanish language music. Villanueva told Art that some people who worked for Gladys Knight were trying to get her on KMEX. He explained to them that it was a Spanish language station, but told them about Art and his idea for a Latin-American dance show. They liked the idea and wanted to meet with Art. After the meeting they agreed to put up the money to do a pilot episode of the show. Art secured Freddy Fender and Tierra to do the pilot. He also heard that Tito Puente was in town at the Ambassador Hotel. Fearless at the time, Art went there and told Puente about his pilot, hoping he would also be a guest on the show. Tito told Art that he was scheduled to leave for New York the next day. Somehow, Art convinced him to stay in town and do the show.
The show was taped at the Starwood on Santa Monica Boulevard in Hollywood. It's the same building that housed the legendary PJs in the 1960s, where Trini Lopez recorded his "Live at PJs," which went to number one on the national charts. The Starwood is also where Van Halen gained attention in Hollywood as the house band. (Unbeknownst to Art until years later, the owner of the Starwood, Eddie Nash, with whom Art dealt with in renting his facility, was to be a convicted gangster and drug dealer, best known for his involvement in the quadruple Wonderland Murders.) Art now needed a director for the pilot show. Art asked Mike Lundy, who had been a DJ at KDAY, if he knew a director who could do the show. Mike happened to know Bob Barnett, director for Dick Clark Productions no less. Art spoke to Barnett and he amazingly agreed to do it. Brambila opened up offices in the penthouse in the same building on Sunset Boulevard that housed the Motown offices. Art hired Glena Loya, a choreographer, to recruit dancers from clubs in the L.A. area. Art's instructions were to get well dressed Latinos only, which she did. A newscaster on L.A.'s NBC affiliate, David Ochoa was hired as host. The pilot show was shot and now Art needed a sponsor.
Brambila had read somewhere that Cesar Chavez, the already legendary United Farm Workers president, had a relationship with the Coca Cola company. Art, having nothing to lose, called Cesar Chavez out of the blue. They agreed to meet in Fresno, California at the annual convention of the UFW. Things were hectic there so Cesar invited Art up to his headquarters in Keane, California for a meeting the next day. Once in Chavez' office, Cesar closed the doors and told his secretary not to take any calls. An orange crate and a VCR were brought into the room so they could view the "Mean Salsa Machine" pilot. Cesar and the others in the room enjoyed the show with it's distinctly Latino flavor and responded enthusiastically. Chavez asked "What can I do for you?" Art told him about his experience with Coca Cola and asked Cesar if he could call them on his behalf. Three days later Art got a call from Coca Cola wanting to sign contracts. With a major sponsor in hand, KHJ (Channel 9 in Los Angeles), bought the show for 13 weeks. Three shows were shot every third Sunday. The show became very popular and actually beat "American Bandstand" and "Soul Train" in the local L.A. ratings every Saturday.
Brambila was able to book major acts for the show including Donna Summer, Rick Springfield, Al Green, Morris Alpert of "Feelings" fame, The Four Tops, and Latin music stars Ray Barretto, and Ralphi Pagan. Due to it's good ratings the "Mean Salsa Machine" was picked up for a second 13 week run. At this point Art knew that he had to get the show syndicated in order for it to move forward and survive. He traveled around the country trying to drum up interest from advertisers and television stations. He needed at least one more market to cover the costs of the show. Despite his efforts, he could not get the advertisers he needed. He believes they weren't ready for a show of this type with it's Latino demographic, especially outside of Los Angeles. As a result after 23 episodes the show's run ended. The "Mean Salsa Machine" still stands as quite an achievement in Latino-American music and television. It succeeded in the second largest media center in the country, was on an English language television station, and eighty percent of the people who worked on the show were Latino.
In 1976, as a result of meeting Cesar Chavez and wanting to do something for him in return for his help in securing sponsorship for the "Mean Salsa Machine," Art Brambila got the idea to do an album called "Si Se Puede!" ("Yes We Can") in support of the United Farm Workers, with the proceeds going to the UFW. Brambila had a meeting with Herb Alpert, musician and co-owner of A&M Records. Art pitched the idea of the album to Alpert, who agreed to donate studio time, engineers, and recording tape for the project. This benefit project with artists donating their talents to a cause pre-dated other benefit shows that were to follow such as "Band Aid" and "We Are the World." Brambila had already written a song called "Mañana Is Now" and received 110 songs about farm workers, unions, strikes, etc. from ethnomusicologist Phil Sonnichsen for consideration for the album. Art next gathered musicians and singers for the project including Los Lobos (years before their major record debut), Steve and Rudy Salas of Tierra, Carmen Moreno, Geree Gonzalez, and Tiguere Rodriguez. One of the highlights of the album was a version of the traditional "De Colores." Art wanted to have a children's chorus sing on the record and found the one he needed at a Catholic school in East L.A., Santa Isabel. As it turned out it was a great decision because this version has been used by the UFW at various events ever since and it's also been on several compilation albums.
Musically "Si Se Puede!" was a triumph. Carmen Moreno wrote and sang two of the songs, "Corrido de Dolores Huerta #39" and "Sangre Antigua." Carmen also sang lead on "Huelga En General," written by Luis Valdez (of Teatro Campesino fame) and Baldemar Gomez. Ramon "Tiguere" Rodriguez wrote and sang "Yo Estory Con Chavez" and "Chicanita de Aztlán." Geri Gonzalez Logan beautifully sang Art Brambila's "Mañana Is Now." "Mujeres Valientes" was sung by Art's brother Raul Brambila. "Telingo Lingo" was sung by Cesar Rosas of Los Lobos. "No Nos Moveran," a traditional union song was sung by Geri Gonzalez Logan, Steve and Rudy Salas, Carmen Moreno, and Conrad P. Lozano of Los Lobos. There is a statement written by Cesar Chavez on the back of the album which reads "This album mirrors the spirit and vitality that have sustained the farm workers through good times and bad for more than a decade. It celebrates the love and solidarity we share as a people united in a common struggle. It is a tribute to the artists who donated their talents to support the cause. It will be cherished within the movement, and it will help bring our message to friends and supporters everywhere." -Cesar Chavez
Despite all his accomplishments of the 1970s, Art Brambila is disappointed his dream of a brown Motown was not realized. He feels even though we had the energy, belief, and talent, perhaps we didn't have the experience in the music business to put it all together at the time. We also needed a bilingual market that although it may have existed, no one knew how to tap it successfully, least of all the record companies. Nevertheless, Brown Bag Productions and it's artists made some great and meaningful music and the evidence is there in the recordings and radio and television shows we did. It clearly shows that we were there in the arena fighting the fight as pioneers of Chicano rock and ahead of our time.
This article is based on an interview with Art Brambila by Mark Guerrero on August 25, 2011.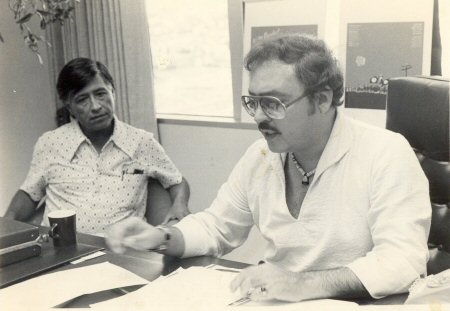 Cesar Chavez & Art Brambila (1976)

"Si Se Puede!" CD cover
(This is the reissue of the album. The original record album cover was solid red
with the title "Si Se Puede!" in yellow in the same position as it is above)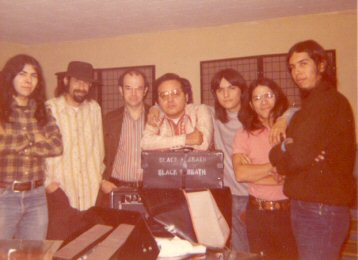 Art Brambila (1972)
(Independent Studio, Studio City, California)
(left to right- Richard Rosas, B.B. Cunningham (engineer), Phil Sonnichsen (ethnomusicologist), Art Brambila,
Mark Guerrero, Ernie Hernandez, and John Valenzuela)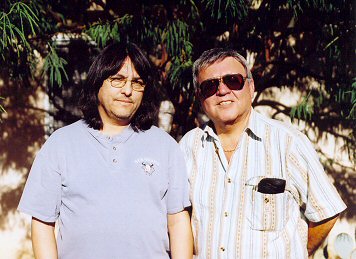 Mark Guerrero & Art Brambila (2004)

Flyer for "Feria De La Raza" (1972)
You Tube Videos from the Mean Salsa Machine
Click here for Rick Springfield
Click here for Donna Summer

1972 recordings by Mark Guerrero, Tierra, and Yaqui
Click here for "I'm Brown" by Mark Guerrero
Click here for "Barrio Suite" by Tierra
Click here for "It's Time For a Change (Es Tiempo Para Un Cambio)" by Yaqui


Previous page || Go to next miscellaneous writings page
Return to miscellaneous writings index page