My 2004 Recording Session with Trini Lopez
by Mark Guerrero
In the 1960s, Trini Lopez had seven top forty albums, the most famous and successful being "Trini Lopez, Live at P.J.'s," which peaked at #2. He also had four top forty hits, the biggest being "If I Had a Hammer," which reached #3 on the national charts. The Beatles opened for him at the Olympia Theater in Paris, France in 1963. I first met Trini in the '60s, but really got to know him when I moved to the Palm Springs area full time in 1990. Trini had bought his house in the desert in 1962.
In 2004, I heard through John Byrnes, a friend and Trini Lopez' public relations man, that Trini was going to record a new album. Upon hearing about Trini's upcoming recording, I submitted seven songs to him on CD that I thought could fit his style. A couple of weeks later, I got a call from Trini saying he wanted to record one of my songs. He asked me to guess which one and after several failed guesses I hit on the correct answer, "Oh Maria." "Oh Maria" is a song I had written way back in 1979. The idea was that I wanted to write a Mexican-style polka with lyrics in English. I already had a demo of the song I had recorded in 1993 on my Tascam 688 8-track cassette recorder. I sang and played all the instruments on the demo. To my surprise, a few days later I got another call from Trini saying that he would like to use my music track for his recording. He liked it like it was. However, I had to make two alterations. First, my recording was in the key of "A" and he wanted it changed to his key of "E." This was not too difficult because the bass, piano, and marimba were recorded digitally, therefore I could easily change the key by pushing a few buttons on my sequencer. The drums, which were digitally programmed, could be left unchanged and unaffected. The guitars would have to be redone, however, since they were recorded analog directly onto tape. Second, Trini wanted the solo to be twice as long as it was on my demo. Once again, thanks to digital technology, I was able to "fly in" eight more bars to the solo section and copy the bass and keyboard parts to the same new section. Voila! The track was ready to go. I made a copy of the new version of my track onto a CD and took it to the studio in which Trini was going to record his album, a local studio by the name of Rancho Mirage Music People. The studio happened to be owned and operated by my longtime friend Leon Becken, whom I'd known since we were 15 years of age. (At the time Leon was a drummer and leader of his own band, Leon & the Leisures. I had a band called Mark & the Escorts.) Leon "dumped" the two tracks (stereo left and right) to two tracks of his digital multi-track recorder, thereby opening up numerous tracks for us to complete Trini's recording.
The first session was in the evening of June 20, 2004. Trini and I met at Leon's studio around 7 p.m. I first overdubbed an electric bass guitar to fortify the existing digital bass. Next, I put on a new electric rhythm guitar part, a typical two and four polka part, to replace the original guitar which was in the old key. I then doubled the part with a twelve-string acoustic guitar. The addition of the electric bass and acoustic guitar fattened up the sound of the track. I then put on a lead guitar part for the new eight bars of the solo section. (The first eight bars was a marimba solo that was on my original recording.) I then played a harmony guitar part on the guitar solo section. Now all the music track was completed and it was time to add Trini's lead vocal. By this time it was around midnight. Trini went into the vocal booth and did his lead vocal in just a couple of takes. The following week, on June 27th, we all came back to the studio and Trini added his harmony vocal and his ad lib vocal to the ending section of the song. Over the next week or two, Leon mixed the track and it eventually found a home as track #6 on Trini Lopez' album called "Romantic and Sexy Guitars," which was released in late 2004. You can hear the recording from a link at the bottom of this page.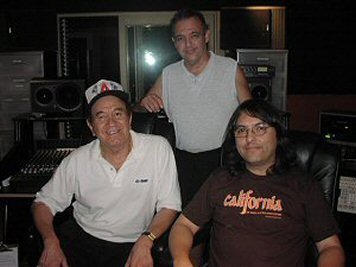 Trini Lopez, Leon Becken, & Mark Guerrero (2004)

Sound byte of Trini Lopez version of "Oh Maria"
Click here to read my article on the life and career of Trini Lopez.


Previous page || Go to next miscellaneous writings page
Return to miscellaneous writings index page