Geree: East L.A. Chicana Latin/Soul Singer Supreme
by Mark Guerrero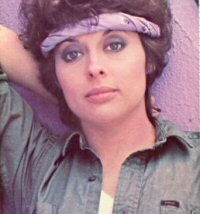 Geree is one of the best, if not the best, Chicana female vocalists to emerge from the fertile musical landscape of East L.A. She's blessed with a world-class voice and singing talent, and has sung with some of the best musicians East L.A. has produced from the late 60s to the present. She recorded and released an album on MCA Records in the early 80s, as well as two CDs for an independent label in the 90s. In the mid 90s, she played numerous concerts as a featured vocalist with the legendary Chicano band, El Chicano.

Born Geraldine Juanita Gonzalez, Geree knew she loved singing since she was four years old. In her childhood years, she and her family lived in South Central Los Angeles, which was racially mixed at the time. In kindergarten, she was singing as part of a group when a music teacher, Mrs. Orozco, picked her out of the crowd. Mrs. Orosco told Geree's mom that singing lessons would be a good thing for Geree, since she had a gift that should be developed. Geree's strict father wasn't thrilled about the idea, but allowed her to do it. She also took piano lessons from the 3rd to the 8th grade. In her mid-teens, Geree's family moved to Huntington Park, a barrio on the Eastside of town, where she attended high school and belonged to school choirs. She joined her first rock band at the age of 18, while attending East L.A. College. It was called That Happy Few, a band that did Doors covers mixed in with r&b music. She remembers singing songs by The Supremes, whom she admired. However, as much as she liked The Supremes, she preferred funkier artists like Aretha Franklin. Some of her other influences were Stevie Wonder, Vikki Carr, Edie Gormé, and an incredible singer named Eva Garza. Eva was a Mexican-American from Texas, who was a Spanish language singing star. She would come to L.A. and sing at the Million Dollar Theater, where the great stars of Latin America would perform. Eva happened to know Geree's parents and came over to the house one day when Geree was still a child. When Eva sang in the living room, Geree now recalls, "She sang so great I thought I was gonna die." Geree also remembers thinking "that's what I want to do."

Geree's next band was The Village Callers, a very good, and popular band in East L.A. She worked a lot with them, including a stint at Disneyland and a long-term gig at a popular eastside night club called the Plush Bunny, where she had to use a fake I.D. since she was under age. She sang mainly r&b songs and always did her great rendition of the classic Mexican love ballad, "Sabor a Mi." By Geree's recollection, the members of The Village Callers at the time were: Adolfo "Fuzzy" Martinez, sax; Manuel Fernandez, drums; Joe Espinoza, bass; Ernie Hernandez, guitar; and Johnny Gonzalez, keyboard. They had made several recordings before Geree joined, including an instrumental that was particularly popular on the eastside called "Hector," named after their manager, Hector Rivera. More significantly, it is widely believed that The Village Callers recorded a version of "Evil Ways" before Santana had done it. After a couple of years, the Village Callers' original vocalist, Angie Bell, returned and Geree was moved by the manager to another band called The Organized Set. With her new band, which had a horn section, she worked eastside clubs and did a stint at Knott's Berry Farm, a popular Orange County amusement park. The Village Callers meanwhile evolved into Poverty Train and Geree was once again their vocalist. Two of the members of Poverty Train at this time were Bobby Figueroa, on drums, and Cecilio Rodriguez, on guitar. Bobby Figueroa went on to play drums with the Beach Boys, and Cecilio later gained fame as half of the folk rock duo Cecilio and Kapono. Poverty Train was very popular on the eastside, but also toured California, Alaska, and played a lot in Hawaii. Cecilio fell in love with the islands and on one of the band's visits, decided to stay. Since that's where he later met Hawaiian musician Kapono, it turned out to be a fortuitous decision on his part. While in Hawaii, Poverty Train became a favorite band of legendary Hawaiian singer Don Ho. He would often come to hear them play and even hired them to play for one of his private parties. Don Ho also once invited Geree up to sing in one of his shows. In the mid 70s, Geree had a son and didn't want to tour anymore. She started playing locally with a band called Chico, led by former Village Caller, Joe Espinoza. Joe had inherited the band from it's original leader, Sal Chico.

In 1976, Geree participated on an historic album recorded in support of Cesar Chavez' United Farm Workers' Union (the UFW). Entitled "Si Se Puede," it was produced by Art Brambila and released on the Pan American Record label. "Si Se Puede" was a phrase used by Cesar Chavez which became the rallying cry for the UFW. It means "yes we can" and was the perfect name for the album. The vocalists and musicians, who donated their time and talents to la causa (the cause), included Geree (then known as Geri Gonzalez Logan), Carmen Moreno, Ramon "Tiguere" Rodriguez, Raul Brambila, Steve and Rudy Salas of Tierra, 4th grade student Diana Cruz, and the children of Santa Isabel Elementary School. The singers were backed by Los Lobos (then known as Los Lobos del Este de Los Angeles); David Hidalgo, Conrad R. Lozano, Louie Perez, Cesar Rosas, and founding member Frank Gonzalez, who was no longer with the group when they later made their major label debut. Other musicians on the album were Mark Fogelquist, Rudy "Bub" Villa of Tierra, and Arturo Gerst. Geree provided the lead vocal on the Art Brambila composition "Mañana Is Now," and was part of an ensemble vocal on "No Nos Moveran."

Although working steadily in clubs, Geree had a desire to be a recording artist and do an album of her own. She contacted a producer she had met named Hadley Morell. He was able to help her secure a deal with a major label, MCA Records. She recorded an album of r&b songs that were selected for her by her producer. According to Geree, the label thought she was a good r&b singer, but "didn't sound black enough." On the other hand, they thought "she didn't sound white enough." It's the same old story that has happened to countless Latino artists, we're neither fish nor fowl. Not surprisingly, Geree and MCA parted ways. Ironically, a year later they signed The Miami Sound Machine, which was a major breakthrough for Latin pop music. In the late 90s, Geree had several releases on a small independent label called Our Town Records. It was at this point that she decided to use her first name only, with a different twist on the spelling. She had previously been know as Geri Gonzalez, Geri Logan, Geri Logan Gonzalez, and at the time had yet a new married name. To say the least, it had gotten a little confusing. It was time to clear the decks and simplify. In 1995, a CD entitled "Reflections of Love" was released. It's a collection of r&b songs, some sung entirely in Spanish. One of the highlights of the album is a song entitled, "Dame Tu Amor," which is a duet with former Tierra lead vocalist, Steve Salas. Both singers are in top form on the soulful ballad. The English language version of the same song appears later on the CD called, "Give a Little Love." In 1997, a four song EP was released, which included one of my songs called, "Mihijita." It was a song I had written back in 1979 entiltled "Mihijito," about a son thanking his mother for having faith in him. She feminized the title and the song, a daughter singing to her mother. It's a great version of the song and she did a fantastic vocal. It was a pleasure for me to hear a different take on my song performed by such a great singer. "Mihijita" also appeared on her next album, 1999's "Through These Eyes," which also featured her updated version of the classic song she had sung since the days of the Village Callers, "Sabor a Mi." Geree also has two tracks on a 1998 compilation CD called the "Chicano Alliance." Two of my recordings, "On the Boulevard" and "Rosalie," are on the same collection. The two CD set also has songs by artists such as Malo, El Chicano, Tierra, and her former band, The Village Callers, whose version of "Evil Ways" is included. Click here to go to an article on my website for more info on the Chicano Alliance CD.

Sometime in the mid 90s, Geree came out to my neck of the woods (Palm Springs) to be part of a meeting with the aforementioned Steve Salas, George Ochoa (former lead singer of Yaqui), and me. A Chicano entrepreneur was trying to put an East L.A. oriented record company together. (As it turned out, nothing materialized.) After the meeting, Geree wanted to go to a Karaoke bar. Little did the other patrons and would-be singers know that professional singers were amongst them. Steve, whose voice has graced several hit records, including Tierra's monster hit "Together," got up and sang a song. George Ochoa, an excellent singer who's sung lead vocals on major label releases, also got up and took a turn on the microphone. Geree went up and decided to sing the beautiful and challenging, "Alfie," written by Burt Bacharach and Hal David. She did a magnificent job crooning the song with quality, subtlety, and nuance, that should have been on national TV, let alone a karaoke bar. Steve, George and I sat in stunned disbelief by how great she performed it. It was so good, we had to laugh about it. The three of us went up on stage and backed her up on some up tempo r&b songs and had a good time. I've got a photo of all of us up there on that little Karaoke stage. Geree's currently talking about doing some Christian recordings since she's been doing a lot of singing in her church. Whatever she does, I hope to hear more recordings of her in the future, as well as live performances in venues appropriate for her talent.
This article is based on an audiotaped telephone interview by Mark Guerrero with Geree on April 30, 2002.
Update
After having a band called Smooth for several years in the early 2000s, Geree has a new band called Geree and the Groove. Members of the band include Moses Hauffen on guitar and vocals; Roberto Seja on keyboards, harmonica and vocals; Rudy Garcia on bass; and Eddie Hernandez on drums. In 2006, Geree was a guest on my internet radio show, "Chicano Music Chronicles." I interviewed her about her music and we played recordings from throughout her career. The show is archived on my website to hear at your convenience. A high speed internet connection is recommended. Click here to get to the page.
mp3 Sound Byte
Geree 1997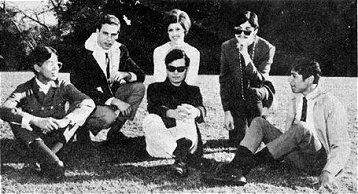 Geree with That Happy Few (1969)
(left to right- Mike Hiralda, John Goss, Geree,
Billy Hernandez, Moses Hauffen, and Jimmy Gomez)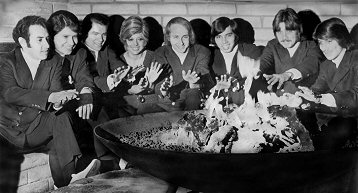 Geree with The Village Callers (c. 1970)
(left to right- Adolfo "Fuzzy" Martinez, Ernie Hernandez, Johnny Gonzalez, Geree Gonzalez, Jeff "Dino" Dean,
Charles Sarceda, Sonny Ray, and Michael Mercado)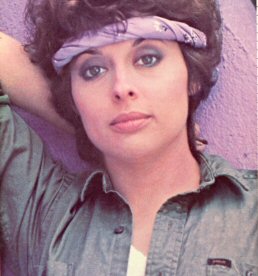 Geree (1982)

Geree, Mark Guerrero, George Ochoa, and Steve Salas (1996)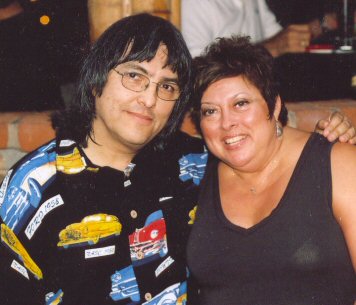 Mark Guerrero & Geree (2007)

Geree You Tube Video

Geree "Mihijita" U.C. Riverside (2007)
(words & music by Mark Guererro)

Geree "Mihijita" Cal State Los Angeles State Playhouse (2013)
(words & music by Mark Guererro)
Accompanied by Mark Guerrero and Ernie Hernandez

Previous page || Go to next article